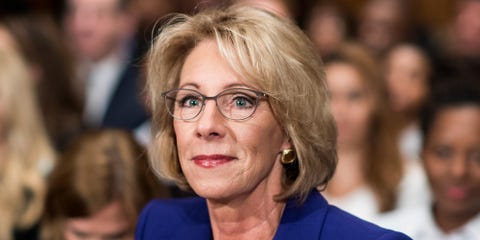 Betsy DeVos faced senators Tuesday at her confirmation hearing before the Committee on Health, Education, Labor, and Pensions. It was the only time President-elect Donald Trump's nominee for Secretary of Education will be questioned publicly prior to the vote next week. The 59-year-old billionaire Republican donor lacks any experience working in education but has pushed for voucher programs for over 20 years.
During her hearing, DeVos revealed gaps in her knowledge about education policy and laws, prompting some on social media to say that it was like a job interview gone wrong. Here were some of concerning moments from the proceedings.
MORE FROM POLITICS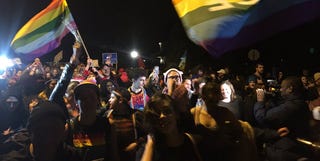 LGBTQ Activists Have a Dance Party for Pence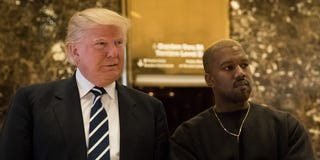 Kanye Wasn't Asked to Perform at the Inauguration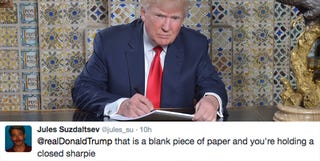 Twitter Roasts Trump for His "Writing" Photo
1. WHEN SHE DIDN'T KNOW THE DIFFERENCE BETWEEN PROFICIENCY AND GROWTH.
Sen. Al Franken, Democrat from Minnesota, asked DeVos about the "relative advantage" of assessing schools using proficiency over growth, but DeVos did not seem to grasp the difference between the two measurements.
"I think if I'm understanding your question correctly around proficiency," DeVos said,
"I would also correlate it to competency and mastery so that each student is measured according to the advancement that they're making in each subject area."
"Well, that's growth," Franken said. "That's not proficiency."
DeVos could not take a stand on which measurement she preferred because she had trouble with the definitions of the two means of tracking performance in schools.
2. WHEN SHE COULDN'T SAY THAT GUNS SHOULDN'T BE IN SCHOOLS.Sen. Chris Murphy, Democrat from Connecticut, questioned DeVos about her views on whether guns should be allowed in schools. Murphy was a senator during the Sandy Hook massacre in 2012 and has forcefully advocated for gun-control laws.
DeVos responded that states should decide school gun policies. Citing Sen. Mike Enzi of Wyoming, DeVos said, "I would imagine that there is probably a gun in the schools to protect from potential grizzlies."The grizzly bear comment provided fodder for commenters on Twitter:
Trump has stated that he is opposed to gun-free zones in schools and that trained teachers should be allowed to have guns, according to CNN.
3. WHEN SHE SEEMED UNFAMILIAR WITH THE FEDERAL LAW PROTECTING STUDENTS WITH DISABILITIES.
 Sen. Tim Kaine, Democrat from Virginia, asked DeVos about the Individuals with Disabilities Education Act (IDEA), which guarantees services to students with disabilities. It has been a federal law since 1990. Kaine asked if all schools should meet the requirements of the law.
"I think that is a matter that's best left to the states," DeVos said.
Further questioning from Kaine seemed to reveal DeVos's lack of understanding about IDEA. Later, Sen. Maggie Hassan, Democrat from New Hampshire, asked more pointedly about DeVos's knowledge of IDEA.
"So were you unaware when I just asked you about the IDEA that it was a federal law?" Hassan asked.
"I may have confused it," DeVos said.
4. WHEN SHE COULDN'T SAY WHETHER SHE WOULD CONTINUE FUNDING PUBLIC SCHOOLS.
DeVos, a staunch opponent of the public school system, has been accused of wanting to gut public schools, which provide the education for 90 percent of children in the United States.
"Can you commit to us tonight that you will not work to privatize public schools or cut a single penny from public education?" asked Sen. Patty Murray, Democrat from Washington.
"I look forward, if confirmed, to working with you to talk about how we address the needs of all parents and all students," DeVos said. "We acknowledge today that not all schools are working for the students that are assigned to them. I'm hopeful that we can work together to find common ground and ways that we can solve those issues and empower parents to make choices on behalf of their children that are right for them."
"I take that as not being willing to commit to not privatizing public schools or cutting money from education," Murray said.
"I guess I wouldn't characterize it in that way," DeVos said.
[Source:-Composition]