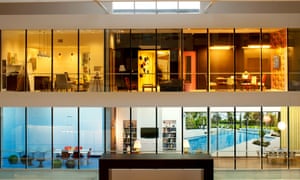 "The best part about sharing Brixton?" says Airbnb host, Christabel. "It's sharing a meal in my home. I cook for all my guests and sometimes they also cook for me. We always exchange recipes and, of course, a good laugh."
Christabel, a middle-aged south London super-host, is exactly the kind of person you would hope to stay with on your travels. She comes across as warm, caring and home-loving. She captures the spirit and ideals Airbnb is meant to be built on. It is no surprise she – with the above quote – is featured as a case study in areport the company launched last month in London's City Hall, trumpeting the positive impact the home-sharing platform is having on the capital.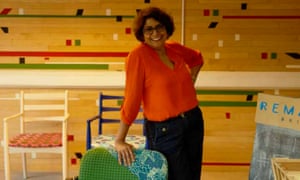 Yet, you could argue that Christabel isn't exactly your typical host. In London, as well other major Airbnb cities, rather than arriving to a home-cooked meal served up by a hospitable individual, you could well find yourself renting a flat run by a third-party management company, and collecting your keys from an agent who lets out hundreds of other properties for hosts who are less interested in cross-cultural connections and more concerned with collecting their money at the end of the month.
Airbnb's founders, Brian Chesky and Joe Gebbia, came up with the site in 2008 after supplementing their rent in San Francisco by hosting people on an airbed in their living room. While the company continues to promote itself as a platform that supports young creatives (and people on low-incomes) hoping to make extra money out of spare rooms – as well as an independent and socially engaged way to travel – as Airbnb has expanded to more than two million listings worldwide there is a disparity with the image it puts forward and the reality of who is using and profiting from the site.
After the company was found to have misrepresented data in New York last month – silently "purging" 1,500 commercial listings (professional hosts with multiple properties) before releasing a data snapshot of the city that presented a rose-tinted image of its users – Guardian Travel wanted to take a more in-depth look at the profile of Airbnb in cities around the world. We feel that if we are all using Airbnb, it's important to scrutinise the company and the impact it could be having on cities, which are homes as well as destinations.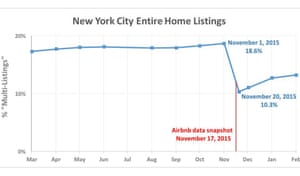 With the help of Murray Cox, a New York-based community activist and founder of non-commercial independent data project Inside Airbnb, which uses publicly available information from the Airbnb site and makes it available for in-depth analysis, the Guardian can reveal exclusive up-to-date data that shows how the site is becoming dominated by commercial lettings. This shift is supported by a growing Airbnb sub-economy, which consists of dozens of third-party management companies geared up to help hosts maximise their return on vacant properties.
In May 2015, legislation was passed in London that deregulated existing housing laws and legalised short-term lettings for up to 90 days a year. At the time Airbnb's Chesky hailed this "progressive law" as a victory for working people. "Under these new rules," he said, "more Londoners will be able to make ends meet by opening up their homes to visitors."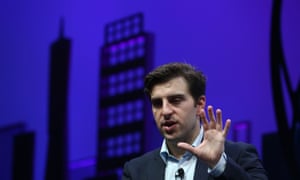 The government continues to fawn over technology companies and the sharing economy: in this week's budget it announced a new tax-free allowance of £1,000 a year for people who rent out their homes through sites such as Airbnb. It is the second tax break for Airbnb landlords in less than a year.
While we don't doubt that Airbnb provides an important income source for some people, and we support home-sharing as a means of travel, this is not the whole picture. In London we found more than a third (36%) of entire homes on Airbnb are listed by a host with multiple homes on the site. In some areas, such as Westminster, this rises to more than half, accounting for 1,539 properties in the central borough.
As for sticking to the new rules, data from Inside Airbnb found that 7,383 entire homes – or 21% of London's entire home listings on the site – have been rented for longer than the 90-day threshold. According to the data, around half of the entire home listings in Camden, Westminster, and Kensington and Chelsea are by hosts with multiple homes listed. In all these boroughs the majority of listings are entire homes and the average rental limit for these exceeds the 90-day limit.
To calculate the number of listings likely to be long-term profit-making enterprises, we defined "commercial" as entire home listings rented by a host with more than one entire home on the site, or entire homes rented out for longer than 90 days (or the relevant legal threshold for that city). In London this amounted to 10,950 properties. What's clear from these figures is that a platform created to support independent travel has become a facilitator of high-profit short-term rentals for landlords in cities already struggling to contain rising rents and dwindling housing stock.
"There is no question that parts of central London are feeling the strain," says Karen Buck, MP for Westminster North, which, according to our data, has the highest number of commercial listings in the capital (2,127). "Some constituents report being virtually the only remaining permanent residents in their blocks of flats. Again, it is not necessarily owners sub-letting that it is the problem, it is corporate landlords moving in to an industry that can generate much more money than traditional lettings."
This narrative, which critics claim is happening in many cities around the world, is what drove Cox to investigate Airbnb. As he explains, in lieu of any meaningful data from Airbnb, journalists, analysts and cities around the world rely on data compiled from public "scrapes" to measure the negative impacts on their neighbourhoods. The company currently provides no data to local authorities that could help them effectively enforce the law.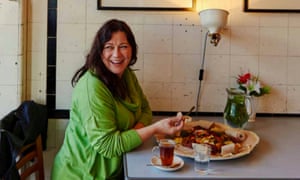 "I think Airbnb should be upfront about how the platform is being used and how it's potentially being abused," Cox says. "I would like it to work with cities to stop the abuse by commercial operators. Because if Airbnb is serious about home-sharing then it would also be serious about the people who are using its platform illegally."
He adds: "It presents a typical host as someone who is renting rooms in their apartment. It should be upfront that the majority of business in London is not people hosting travellers in neighbourhoods in the outer boroughs."
The figures for London are reflected in other cities. In Paris, the annual limit for short-term holiday lettings is 120 days, yet 12,838 entire home listings (30%) were found to be rented out for longer. In Barcelona, which has seen street protests over Airbnb and housing shortages, we found that 58% of entire home listings are listed by hosts with multiple properties on the site.
The statistics Airbnb puts out – through its numerous positive economic impact reports – are different. In London, for example, it says an average host rents for 50 nights a year (we assume this combines entire home listings with private and shared rooms, which have never been such a concern with regards to housing markets). It also says that the biggest growth in the capital has been in the outer boroughs, which have seen a year-on-year increase in nights booked of 95%.
The suburbs were the focus of last month's report on London, which garnered praise from London mayor Boris Johnson and business secretary Sajid Javid. As well as Christabel from Brixton, it featured case studies such as Katie from Whitechapel, who is launching a fashion label and rents out her spare room to support her business. The report emphasised that boroughs such as Hillingdon and Barnet are "trending" over Westminster and Kensington.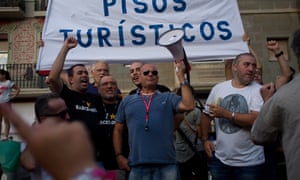 Again, this doesn't tell the whole story. Outer boroughs might be seeing an increase in Airbnb bookings 17% higher than the inner city, but while Hillingdon currently counts 156 entire home listings on the site, Westminster has over 4,000, rented out for an average of 107 days a year.
Last November Airbnb launched a "community compact", described as the first step in turning its founding principles into actions. It states Airbnb: "Will work with our community to help prevent short-term rentals from impacting the availability and cost of permanent housing for city residents." Since then Airbnb has released misleading data about its profile in cities – as in New York City – and does not seem any closer to sincerely helping the authorities regulate housing, for example, by handing over full details of illegal listings, something the New York deputy mayor Alicia Glen requested it do this month.
One reason for this could be that these listings are where Airbnb is making a lot of its money. One study by researchers at Penn State University (funded by the American Hotel and Lodging Association, long-time critics of Airbnb) found that a third of Airbnb's annual $1.3bn in revenues came from full-time commercial listings. Airbnb disputed this research but, after it was caught off guard fudging its data in New York City, it admitted that 38% of its revenue from the city comes from people who rent out multiple properties.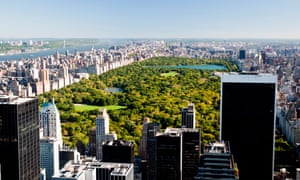 Further facilitating this rise in commercial listings is a boom in Airbnb property managers, also reported by Vice, who let homes on your behalf – organising key exchanges, cleaning the property and providing clean linen for guests. Some even offer a service where they will re-design your apartment to increase its value. Property managers also guarantee higher returns, using algorithms and price optimisation software to help hosts earn up to 200% more on a property's usual rent yield.
Some of these, such as City Relay in west London, even have a letting agent-style shopfront, complete with luggage rack and maps of the city, where guests can collect their keys. It is more like arriving at a hostel than a home. City Relay manages around 250 properties in London and is planning to expand across the city, as well as into Paris. According to the shop manager, clients either travel frequently and rent their properties out for a short time each month or do not live in the property and essentially rent it out for the year, bar a couple of weeks if they return to the city.
Similar companies are also experiencing rapid growth. Hostmaker launched in London in July 2014 and manages around 500 properties. In the last six months it has raised £1.3m in venture capital funding and has branched out to Rome, Barcelona and Paris. San Francisco-based Guesty manages over 4,000 properties for individuals and agents in the US and Europe. Airsorted, which launched a year ago, manages around 250 homes. It is launching in Edinburgh this month and plans to expand into other cities.
None of these companies are legally responsible for the properties they manage having the proper planning permission, but it's easy to see how they could expedite the Airbnb process for absent landlords keen to cash in on short-term lets. And though they seem to be shoehorning industry-standardised hospitality into a platform built on the idea of individuality, all the companies maintain they are true to the ideals of Airbnb.
"We're really transparent all through the communication and try to stay true to the Airbnb experience," says Nakul Sharma, who founded Hostmaker after leaving the hotel industry. "If you look at our listings the user reviews are really good."
He disagrees that Airbnb is responsible for causing housing shortages. "It's thousands, in a two-million home market," he says. "That is less than half a percent. Does that cause your rents to go up? No, it doesn't. Twenty thousand fewer homes getting built every year, that causes your rent to go up."
Airsorted's founder, James Jenkins-Yates, maintains that the majority of its properties are let out for less than 90 days, though its homepage says that hosts can earn 60%-100% more than renting their home residentially. "Some hosts will choose to rent for longer and we don't know if they've got permission," he said. "It's their property and ultimately their responsibility."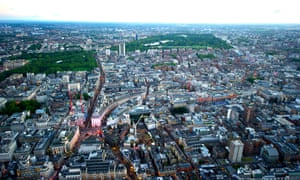 We enquired anonymously with Airsorted about a central London flat we wanted to rent out through Airbnb all year. Though it did make us fully aware of the law, it also told us that despite the 90-day limit, it is now "commonly accepted that enforcement is impossible" and that renting out a property for longer is a risk "lots of hosts choose to take".
Conceptually, the way Airbnb is being used raises broader questions about how it fits into the idea of a sharing economy. If the main beneficiaries are wealthy property owners, then it's hard to see how it poses a challenge to the status quo of the housing markets. And if "hosts" are simply agents supporting serviced apartments, then is this a revolution in travel? Couchsurfing – the original indie travel platform where guests put up visitors for free in spare rooms – depended on the ideology of a community. Airbnb, by comparison, is distinctly corporate.
"The sharing economy is a big trend and has co-opted language that makes it feels like it is something new socially, as well as delivering huge benefits to people and to communities," says Duncan McCann, a researcher at the New Economics Foundation in London.
"The subtle new business model of the sharing economy is that a way has been found for us to trust strangers, either by getting in to their cars, staying in their house, or getting them to do a task for us. But you're still in the same system as before. What you're seeing now is a professionalisation of all of those markets," says McCann.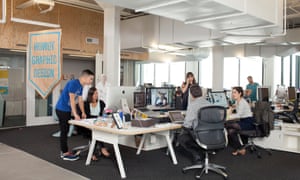 We followed up with Christabel to hear what she, as a super-host, felt was attractive about Airbnb. "It is very much about sharing a part of myself," she says. "And I believe it is the spirit with which the concept was launched."
She feels "disappointed" that the site is filling up with commercial listings. "I believe Airbnb would have checks and balances in place to block them," she says. "But we as genuine hosts also have a particular responsibility to protect the community and name and shame such listings."
Airbnb was asked for its view on third-party management companies and why it is unwilling to provide local authorities with the information required to take action against listings that breach planning law. It declined to comment but said it is engaged in discussions with councils across London about how it can support them. In a statement it said:
"Airbnb hosts are typically regular people who share their homes and use the money they earn to pay the bills. The typical host in the UK earns an additional £2,000 by sharing space in their home for 46 nights a year. Airbnb helps grow and diversify tourism across the UK, helps countless people stay in their homes, and provides an economic boost to communities and local businesses across the country."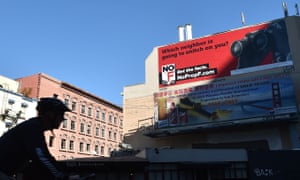 Regarding Inside Airbnb's data, Airbnb said public scrapes of its site are inaccurate and that hosts who have multiple listings are not necessarily sharing multiple properties. Cox refutes this claim. "If Airbnb has evidence that data compiled by public scrapes from its own website was inaccurate, it should prove it," he said, adding that it was public scrapes that proved Airbnb had covered up commercial listings in New York City.
"The data provided to the Guardian and publicly available for independent analysis shows that many of Airbnb's hosts are not regular people and are, in fact, making money by converting, in many cases, multiple residential homes into permanent holiday lettings, breaking the 90-day residency limit even before the first year of the deregulation act has been in effect. Politicians and city officials should be concerned," says Cox.
For travellers, the debate throws up ethical questions. Responsible travellers should care about not having a negative impact on the destinations they visit. We are used to considering this when it comes to rural travel, tour operators and resorts, but rarely question it when it comes to cities.
The beauty of Airbnb is that it helps us live out our fantasies of living in unique homes, placing us within the community of interesting and alternative neighbourhoods but any social energy behind it could be lost if it descends into being a platform dominated by buy-to-let landlords and agents. And if certain cities and neighbourhoods within them become dominated by tourist flats, do Airbnb users stand to erode the very thing that attracts them to the idea in the first place?
AIRBNB AROUND THE WORLD
Airbnb considers New York City one of its leading cities, with 35,957 listings, however it has struggled with ongoing battles over its legality: ranging from illegal short-term lets to disputes over tax collection. In New York City entire homes cannot be rented out as short term lettings (less than 30 days) unless the owner or resident is present. Our data reveals that 11,685 entire home listings are currently rented out for longer than 60 days a year on Airbnb, suggesting apartments are being used for long periods as a holiday let. As pressure to be more transparent increases it will interesting to see if Airbnb choose to cooperate fully and share illegal listing details with city authorities.
As Airbnb's home turf, as well as a city with a social and political spirit matched by rapid gentrification, the West Coast tech hub has been one of the hardest-fought battlegrounds for the company. Resident groups have campaigned against Airbnb and reports of tenants being evicted so landlords could list the site have been reported. Our data shows that San Francisco has a low proportion of multi-home listings but 60% of its listings are entire homes and the average occupancy is 100 nights, which does suggest a high proportion of long-term rentals on the site. In November, Airbnb successfully campaigned against Proposition F, or the "Airbnb initiative", which would have reduced the number of days owners can rent out their properties. Airbnb's victory was helped by its grassroots "home-sharing club ", which voted in large numbers against the law.
The Catalan capital has seen rapid growth in tourism in recent years. In 2014 there were 7.4 million visitors arriving in a city of 1.7 million and unsurprisingly Airbnb has featured prominently in debates over how to balance this with the needs of locals. Of all the cities we looked at, Barcelona has the highest proportion of multi-home listings, with 58% of its 7,984 entire home listings, suggesting that its Airbnb profile is dominated by wealthier property owners. In the Barri Gòtic and Raval neighbourhoods, 56%-60% of entire home listings are by hosts with multiple homes. In Barri Gòtic it has been reported that 10% of apartments are now vacation lets and the population has fallen by 17.6%.
With 41,476 listings Paris is the Airbnb capital of the world. Almost 4 million visitors used the site for their stay last year. Of all the Paris listings, 85% are entire homes. In the Temple quarter in the Marais this rises to 90%, or 1,571 properties. In Paris, you can rent out your primary residence for up to 120 days a year. Our data shows 12,838 are rented for longer than this and it has been reported that almost half of Paris listings are available all year round.
Amsterdam, in 2014, was the first city in the world to pass an "Airbnb-friendly law". This means that the primary resident of a property can rent it for up to 60 days a year, to no more than four people at a time. Despite this, our data found that 4,981 entire homes were rented out for longer than this. Inside Airbnb has also noted that at least 10% of Amsterdam's listings are available to rent for more than four people. Last month the city council announced it would use similar "scraping" techniques as Inside Airbnb to investigate illegal rentals.
Berlin is another city that has tension over gentrification, and it outlawed unregistered holiday rentals in 2014. Despite this the city has 17,372 Airbnb listings, around a quarter of which (4,520) are found in Friederichshain-Kreuzberg – one of the most popular areas for younger visitors. Though the proportion of hosts with multiple homes is low, the prevalence of long-term rentals is high – occupancy of homes averages 111 days.
This article was amended on 18 March 2016 because an earlier version said that Hostmaker was present in Brussels. It is present in London, Barcelona, Rome and Paris.
[SOURCE :-theguardian]