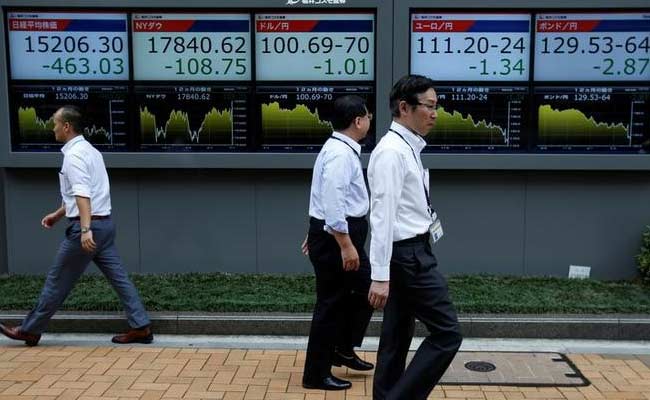 '
Hong Kong: Asian equities opened slightly lower, as investors stayed cautious awaiting the outcome of several central bank meetings later on Wednesday.
With the outcome of policy meetings at the U.S. Federal Reserve, the Bank of England and the Bank of Japan coupled with a Dutch election vote all due within the next 36 hours, there is no shortage of event risks in financial markets.
The MSCI's broadest index of Asia-Pacific shares outside Japan was down 0.1 percent after posting its second-biggest daily gain this year in the previous session.
"Some of these events will obviously be more important than others in determining near-term currency market direction, but prepare for a few market ruffles," ANZ strategists said in a daily note. "Local data today is unlikely to move markets."
Japan's benchmark Nikkei average opened down 0.52 percent while the broader Topix edged 0.41 percent lower. Stocks in South Korea and Australia fell.
Equities have had a good start to the week thanks to positive news out of the region's two economic powerhouses, China and India.
Strong data out of China this week have sparked a fresh rally in Hong Kong stocks, while Indian shares climbed to a record high on Tuesday as investors saw Prime Minister Narendra Modi's landslide victory in Uttar Pradesh as endorsing his economic reform agenda.
Despite the fresh optimism in equities, currency markets were far more circumspect with the U.S. dollar edging higher against major rivals ahead of a much anticipated U.S. Federal Reserve rate hike.
Market attention will be squarely focused on Fed Chair Janet Yellen's comments to gauge the future path of interest rates. On Wednesday, the U.S. central bank is almost universally expected to raise its benchmark interest rates, a move that just a few weeks ago was viewed by the markets as unlikely.
The dollar index was 0.3 percent higher at 101.70, extending a 0.7 percent rise in the past two sessions after a bout of profit taking at the end of last week. Markets are also awaiting a meeting of the Group of 20 finance ministers and central bankers in the German town of Baden-Baden starting on Friday, their first meeting since Donald Trump won the U.S. presidential election.
In commodities, U.S. oil prices jumped in early trading after industry data showed a surprise drawdown in U.S. crude stockpiles. West Texas Intermediate crude was up 1.5 percent at $48.45 a barrel.
Brent futures had yet to be traded yet after settling down 43 cents at $50.92 on Tuesday, the lowest finish since November, after industry body OPEC reported a rise in global crude stocks.
Gold rose 0.1 percent to $1199.71 before the Fed decision.
["source-ndtv"]