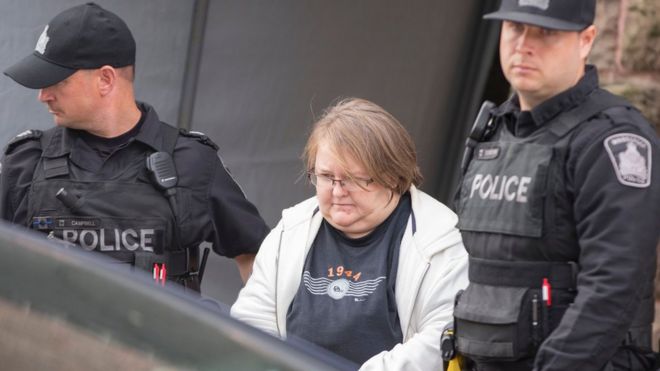 A 49-year-old nursing home worker in Ontario has been charged with eight counts of first-degree murder spanning several years.
Elizabeth Tracey Mae Wettlaufer of Woodstock, Ontario, appeared in court on Tuesday morning.
The victims were residents in two long-term care facilities where Ms Wettlaufer worked and were between 75 and 96 years old.
Police said seven of the victims were given a fatal dose of a drug.
The victims were five women and three men and were all residents of Caressant Care in Woodstock and Meadow Park in London, Ontario.
"The victims were administered a drug… there are obviously a number of drugs that are stored and are available in long-term care facilities," Woodstock Police Chief William Renton said at a news conference.
The chief declined to comment on a possible motive, but did add that investigators are confident that they have identified all victims.
Caressant spokesman Lee Griffi said the accused was a registered nurse and left their employment approximately two and a half years ago.
"We deeply regret the additional grief and stress this is imposing on the families involved," Mr Griffi said in a written statement.
The deaths took place between 2007 and 2014.
[Source:-BBC]