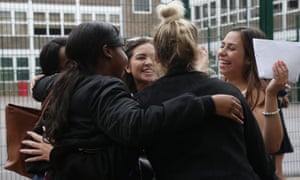 Experts seeking to address male academic underachievement among boys and young men are calling for the introduction of a "take your son into university day" in an effort to increase male participation in higher education.
The proposal is based on "take your daughter to work day", which began in 1993 as a way of exposing girls to as wide a range of careers as possible, and aims to address the growing gender gap at British universities where female students outnumber male.
It is one of a number of proposals put forward at a conference on Monday organised by the charity Men and Boys Coalition, to address what it described as the extensive and growing gap in educational attainment between boys and girls.
"Over the past 30 years, there has been a persistent and growing attainment gap between boys and girls in the UK," a conference briefing note says. "Yet there has been little or no political focus on the causes of the gap, or the measures and policies that could be put in place to address it.
"While there have, quite correctly, been initiatives looking at gender pay gaps, at FTSE-100 board membership and at encouraging more girls into STEM [science, technology, engineering and mathematics] and apprenticeships, there have been no national initiatives, policies or campaigns on boys' educational achievement."
Girls are already outperforming boys at the end of primary school when they take their key stage 2 Sats, with 68% of girls reaching the expected standard compared to 60% of boys. This summer 17.1% of boys in England attained top marks, an A or 7 and above, in their GSCEs compared with 23.4% of girls. That gap persists at A-level.
Young women in England are 36% more likely to apply to degree courses than young men. Figures for 2018 show there were 29,100 more undergraduate applications from 18-year-old women compared with their male peers.
Among those addressing the conference was Conservative chair of the education select committee, Robert Halfon, who highlighted the underachievement of white disadvantaged boys. This group is outperformed by all other disadvantaged groups at GCSE and is the least likely to go to university.
"The plight of white disadvantaged boys is a stain on all our consciences," he told the conference. "We must urgently focus our minds, and energy, to sweep aside the hazards that prevent their safe passage through education and beyond."
The coalition's 14-point plan includes demands for increased emphasis on literacy and attainment among boys in school; a call for positive male role models, particularly in the teaching workforce; and new approaches to male wellbeing and mental health problems.
It also calls for the creation of a "national centre for men, policy and praxis to provide an authoritative academic voice for research and practical work with men and boys".
Mary Curnock Cook, a former chief executive of the universities' admission service Ucas, said: "Everyone in the Men and Boys Coalition would support the welcome initiatives we see across education, employment, careers and other areas to support women to fulfil their potential.
"But it has become harder and harder to ignore the parallel challenges for boys and men. Ridiculing or sometimes toxifying masculinity and ignoring male issues is not the way forward. All of us want both men and women to play their role in a tolerant, successful and inclusive society."
A spokesperson for the Department for Education said: "Children only have one chance at an education and the government's education reforms are designed to ensure that all children, whatever their background, circumstances or gender, have the opportunity to attain well at school and access university education, if that is the route they choose."
["source=forbes]