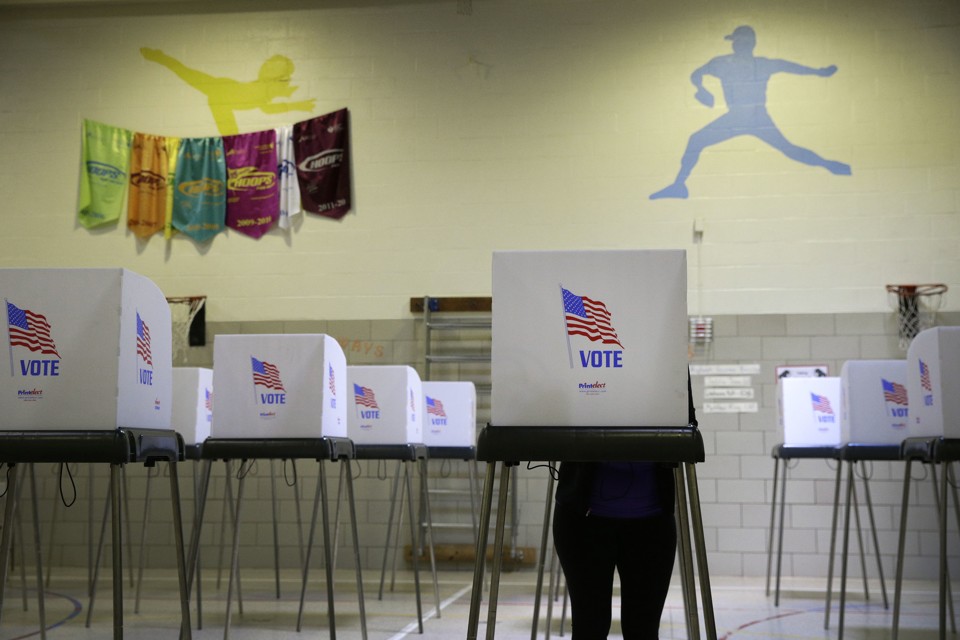 With so much attention focused on the campaign between Hillary Clinton and Donald Trump, voters could be forgiven for forgetting they'll be asked to decide plenty more in November. And the stakes are high for K-12 education in state-level elections, including races for governor, state education chief, and legislative seats, plus ballot measures on education funding and charter schools.
In Massachusetts, a fierce campaign is being waged over whether to lift the state cap on opening more public charter schools, with millions being spent on dueling TV advertisements. Education is proving a key issue in governors' contests in Indiana, Montana, and North Carolina, to name a few. Plus, state superintendents are on the November ballot in five states, including Indiana and Montana.
Just this week, the candidates in the Indiana governor's race engaged in their first debate. The topic? Education. New life was injected into the race after Governor Mike Pence stepped down to join the GOP presidential ticket. The main contenders, Republican Lieutenant Governor Eric Holcomb and Democrat John Gregg, have differing views on school choice, expanding preschool, and student testing.
* * *
State-level elections take on extra weight for education this year given that the fresh rewrite of the main federal K-12 education law—called the Every Student Succeeds Act—hands substantial authority back to states.
"The federal government has loosened the reins on testing issues, on state accountability systems," said Andy Smarick, an education expert at the American Enterprise Institute, during an Education Writers Association panel on the elections last month.
"Who's going to be making these calls over the next several years?" asked Smarick, who was an education official under President George W. Bush and is now president of the Maryland state board of education. "Well, it's going to be state boards of education, governors, state superintendents, state legislatures."
Twelve governors' races are in play this year, plus thousands of seats in state legislatures. Ballotpedia, a nonpartisan organization that tracks elections, ranked the top 20 state legislative chambers across the U.S.—of the 86 holding elections this year—that "might, realistically" see a change in party control. On the list were states including Colorado, Michigan, and New York.
Lily Eskelsen García, the president of the National Education Association, said recently that her union is paying close attention to governors' races, and singled out elections in Montana and North Carolina as examples.
In Montana, Steve Bullock is "a Democratic governor who has really invested in public schools," she said at the EWA elections forum. While in North Carolina, the NEA president is hoping Attorney General Roy Cooper, a Democrat, will unseat Republican Governor Pat McCrory.
Eskelsen García argues that a push by Governor McCrory for "huge tax cuts, with corporations not paying their fair share, and not investing in their public schools," leaves him "very vulnerable to his Democratic challenger, who is talking about public-school funding."
But McCrory touts his record on education on his campaign website, including what he says are increases in state spending—including teacher pay raises—plus additional money for textbooks and a reading initiative.
"Governor Pat McCrory has made the rise of teacher pay a centerpiece of his bid for re-election," WUNC reported in August. The news outlet finds that while the governor has overseen a substantial rise in educator salaries, the increases are not as dramatic as McCrory suggests, and in the governor's first year in office, salaries actually declined.
* * *
The Massachusetts ballot measure, which would allow up to 12 new charter schools to open each year, has pitted teachers' unions, school superintendents, and other charter critics against Republican Governor Charlie Baker, pro-charter advocacy groups, and others, including wealthy supporters from the business community in Massachusetts and beyond.
As a story in Boston Magazine recently warned: "This fall, it's going to get ugly in Massachusetts. We're prepping for a projected $30 million public fight with all the attendant invective and hyperbole, so keep the kids away from the TV."
A top argument of critics is that charters drain money from local districts, while charter advocates say the state's charter sector has a strong track record of improving education for disadvantaged children and that families deserve better options.
The ballot measure comes as the long-contentious issue of charter schools has become even more charged amid calls from the NAACP and the Movement for Black Lives for a moratorium on opening more of the publicly funded, but independently operated, schools. The NAACP resolution, which awaits a final vote next month by leaders of the civil-rights organization, cites concerns that charters have increased segregation and fail to adequately represent the public, among other criticisms.
A September poll by WBUR public radio in Boston found a majority of voters oppose raising the cap (with 48 percent opposed, compared with 42 percent in favor). And just this week, Massachusetts U.S. Senator Elizabeth Warren, who in the past has been a passionate advocate for school choice, said she would vote "no" on the charter question.
"The ballot question … will be a telling test of the ability to sustain public support for charter growth in a heavily blue state," said Martin West, a professor at the Harvard Graduate School of Education who previously was an adviser to Republican U.S. Senator Lamar Alexander. "Given the strong track record of Massachusetts charters, a setback there could energize charter opponents and suggest trouble for the movement elsewhere."
* * *
Teachers' unions are leading the charge on ballot measures in Maine and Oregon to beef up spending on education, Education Week reported this month. Oregon voters will decide whether to impose a 2.5 percent tax on corporate gross sales that exceed $25 million.
In Maine, voters will weigh in on a levy adding a 3 percent surcharge on household income above $200,000.
"Our tax code has been rigged in a way that overwhelmingly benefits the wealthiest Mainers," John Kosinski, a lobbyist for the Maine Education Association, told Education Week. "We're saying there's a better way."
A majority of Mainers support the ballot measure, according to a new poll conducted for the Portland Press Herald. The poll reveals a clear partisan split, with Republicans more likely to vote no. Although much opposition is focused on the tax hike, some opponents say the ballot measure's design is flawed and may not provide aid to schools and students who need it most.
Among the critics is Jim Rier, a former Maine education commissioner.
"If it passed, towns like Cape Elizabeth and Falmouth would get millions, while rural areas would see no benefit at all and would, in fact, find it even more challenging to recruit teachers to their districts," Rier told the Bangor Daily Newsthis month.
Oklahoma voters will consider an increase in the state sales tax, with the bulk of the proceeds going toward teacher salaries.
In Georgia, Republican Governor Nathan Deal is pushing a ballot measure that would create a state Opportunity School District to take over "chronically failing" public schools. It picks up on an idea implemented in a few other states, including Louisiana and Tennessee.
"Amendment 1 is nothing but a power grab," opponents said in a recent ad. TheAtlanta Journal-Constitution reported it was "a political takeover of our public schools by politicians and special interests." But a new ad in favor brings in the voice of a Democratic state legislator to help make the case. "Our children cannot wait for a good education. They deserve a good education," she says.
[SOURCE:-The atlantic]