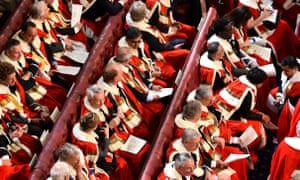 Only in England would you look to the House of Lords for advice about social mobility. There is nothing wrong with today's report from the "mobility committee", which Britain's unelected peerage had touchingly set up for the job. Indeed, all the recommendations on the transition from school to work – parity of esteem for vocational education, better careers guidance, and smart engagement, rather than blank cheques, for employers – sound eminently sensible. Several individual members of the committee have a definite background in the real world, sometimes including elective politics. It would be an unforgivably cheap shot, even, to dismiss the insights the 16th earl of Kinnoull may have into barriers facing teenagers on troubled estates; after all, some great social reformers have emerged from Eton College before, among them Gladstone and Hugh Dalton.
The real doubts do not concern this committee's grasp of the class system, nor even their interest in breaking it down. No, the question – at the end of a week in which the Panama Papers have exposed the parallel, secretive world of a global elite – is whether it can ever be possible to make equality of opportunity a reality through incremental tweaks to things like vocational training. The worthy, progressive proposals are all, very much, what New Labour would have called evidence-based, "what works" stuff. These days, however, New Labour seems old, and there is less faith that "what works" policies will work to change very much.
A black swan event of a financial crisis flew in from left-field, and exposed how little the people in charge of the system knew about it. As the crash gave way to cuts and zero-hours contracts, they continued to bleat about extending opportunity to places where hope had been snuffed out. With real wages falling and property prices rising ever further out of reach, a generation of centrist slogans – about aspiration, upward mobility and getting ahead – came to sound like hollow platitudes. Above all, it has become clearer than ever that the grotesque inequality of economic outcomes – which had opened up long before 2008, but which was felt more keenly once incomes started sinking – were at a point where it would be deluded to imagine that every youngster would have a fair shot to get to the top.
In a world in which, on the Oxfam calculation, 62 people own as much as the poorer half of human beings, privilege gets entrenched in all sorts of ways. At the less sinister end of the scale, costly qualifications, such as master's degrees, which well-to-do parents can fund for their children, become entry tickets for sought-after careers. Transparency about what happened to those who passed through lowlier courses earlier on in life, something the committee recommends, is never going to compensate for that. More pernicious, and more hidden, is the way in which big money warps politics. Anxiety about Britain's shortcomings in vocational education has been a recurrent anxiety since Prince Albert's commission in 1851, and the Lords committee's proposal for a more inclusive 14-18 curriculum has been made before, including by the Tomlinson report in 2004. The gulf between academic and vocational qualifications was never bridged, however, because Tony Blair's No 10 was terrified about howls of anguish that newspapers with wealthy owners would make on behalf of their well-to-do readers about the loss of advantage their children would face if traditional A-levels withered.
Despite the best intentions of individual peers, the current House of Lords really is a singularly inappropriate instrument for challenging such warping of priorities. The old blend of aristocracy and patronage has, since the last election, been aggravated by David Cameron's scattergun issue of coronets, creating record numbers of unelected lawmakers even as he tries to shrink the number of MPs. Hidden in the Panamanian vaults of Mossack Fonseca were the names of Conservative donors who were later put up for peerages. Which brings us back to the one final tilt on the playing field that is imposed by the reigning rich-versus-the-rest political economy: namely, inadequate public revenues.
When David Cameron writes to the EU urging caution on the taxation of trusts he also depletes the funds available for all careers advice and all those other initiatives that really could create room at the top. Upward social mobility for the lower ranks of society is a splendid aspiration, but it is not one that will be realised until the elite rediscovers its lost sense of noblesse oblige.
[SOURCE :-theguardian]