13 wickets in 2 Tests at an average of 9.23 and strike rate of 22.6 including two five-wickets in an innings and a hat-trick – the third in India's Test cricket history.
That was the magic of Jasprit Bumrah in the Caribbean ending the series as the highest wicket-taker. He played a pivotal role as India swept the series 2-0 to take top position in the ICC World Test Championship.
Bumrah received immense praise from skipper Virat Kohli who described him as the most complete bowler in international cricket.
From what we witnessed on the field, both in Antigua and in Jamaica, Kohli's assessment is pretty accurate!
Bumrah produced the outswinger in North Sound which fetched him five wickets in the second innings conceding just 7 runs in 8 overs. West Indies were skittled for 100.
He went back to the inswinger at Sabina Park picking up five wickets and returning to pick a sixth later in the first innings. West Indies were wrapped for 117 and in effect that was the match for India.
So to sum up: 11 wickets, 23 runs, 103 deliveries, average 2.09, strike rate 9.36 – Bumrah produced two-match winning spells and annihilated the West Indian batting line-up in the two Test matches.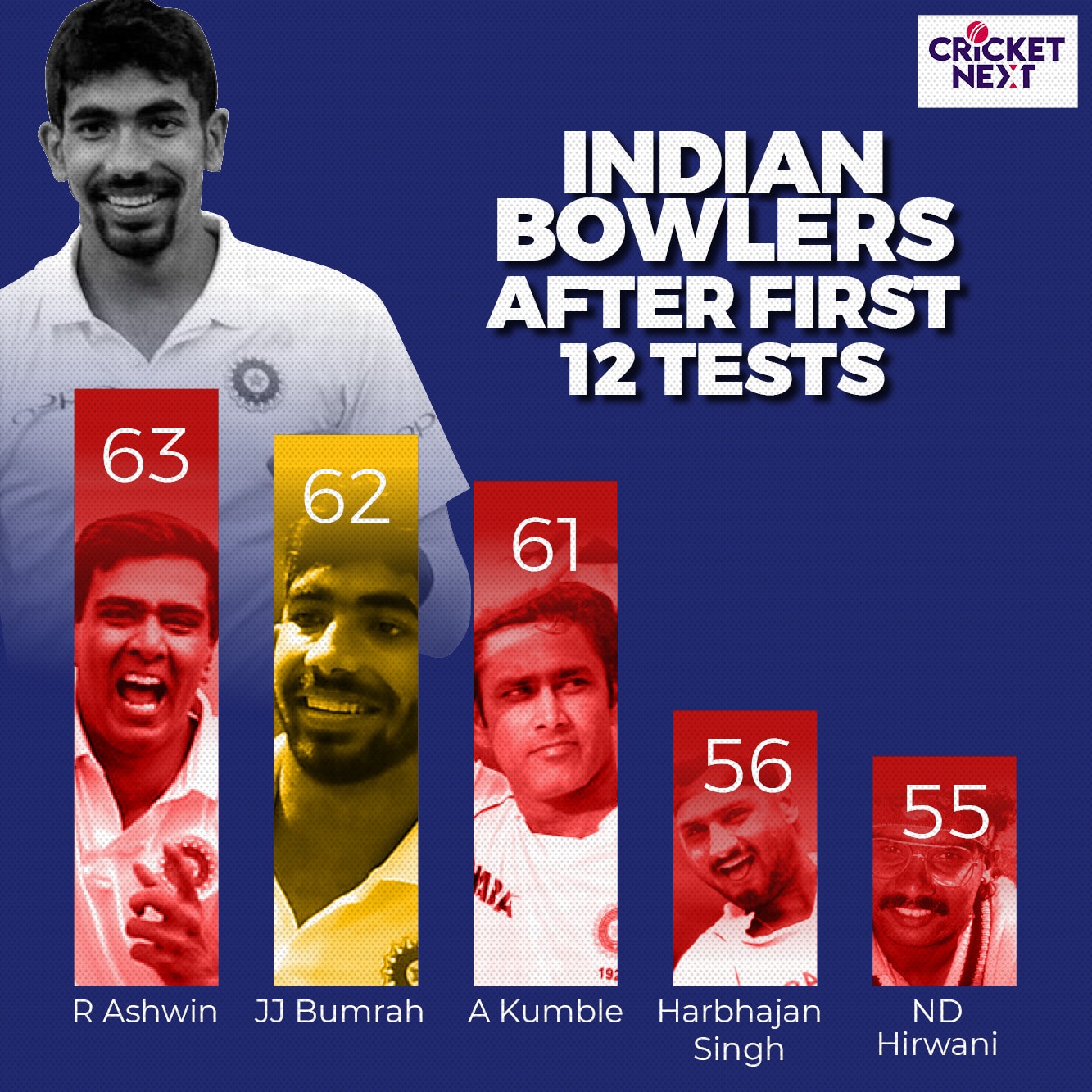 A PHENOMENAL BEGINNING
Bumrah has picked 62 wickets from 12 Tests in his Test career which is hardly spanned 21 months.
Although, it is early days and overall comparisons with Test greats is statistically unfair, it has been a sensational start for Bumrah. His average of 19.24 is the 14th-best in the history of Test cricket (min. wickets 50). It is the eighth-best amongst all fast bowlers.
If we confine the analysis to the last 50 years (from 1st January, 1969), Bumrah's average is second in the world only after Mohammad Abbas of Pakistan (18.86).
His strike rate of 43.7 is the fifth-best in this time-period after Shane Bond (38.7), Kagiso Rabada (38.8), Dale Steyn (42.3) and Waqar Younis (43.4).
He has picked 5 five-wicket hauls in 12 Tests, ie, on an average he picks such a haul every 2.4 Tests. If he can maintain this remarkable frequency it would place him at number 4 on the list (last 50 years) after Muttiah Muralitharan (every 1.98 Tests), Yasir Shah (every 2.19 Tests) and Richard Hadlee (every 2.39 Tests).
Bumrah picked 7 wickets each (including two five-wicket hauls) in Johannesburg and Nottingham – the only Tests India won on their tours of South Africa and England.
He was the joint highest wicket-taker in Australia and the stand-out bowler in the series. His 21 wickets came at an average of 17 and strike rate of 44.9. In fact such was his dominance in the series that the difference between him and the second-best, Ishant Sharma (in terms of average) was 6.81 and Mohammed Shami (in terms of strike rate) was 6.3.
Bumrah's tally of 21 wickets was the second-highest for an Indian pacer in any series in Australia – after Kapil Dev's 25 in 1991. His average of 17 and strike rate of 44.9 were also the best ever for an Indian pacer in Australia (min. 5 wickets in a series).
In fact, his average was the best ever for any pace bowler from the subcontinent (min. 4 innings and 5 wickets in the series) in any series Down Under, eclipsing Wasim Akram's 18.70 in 1990.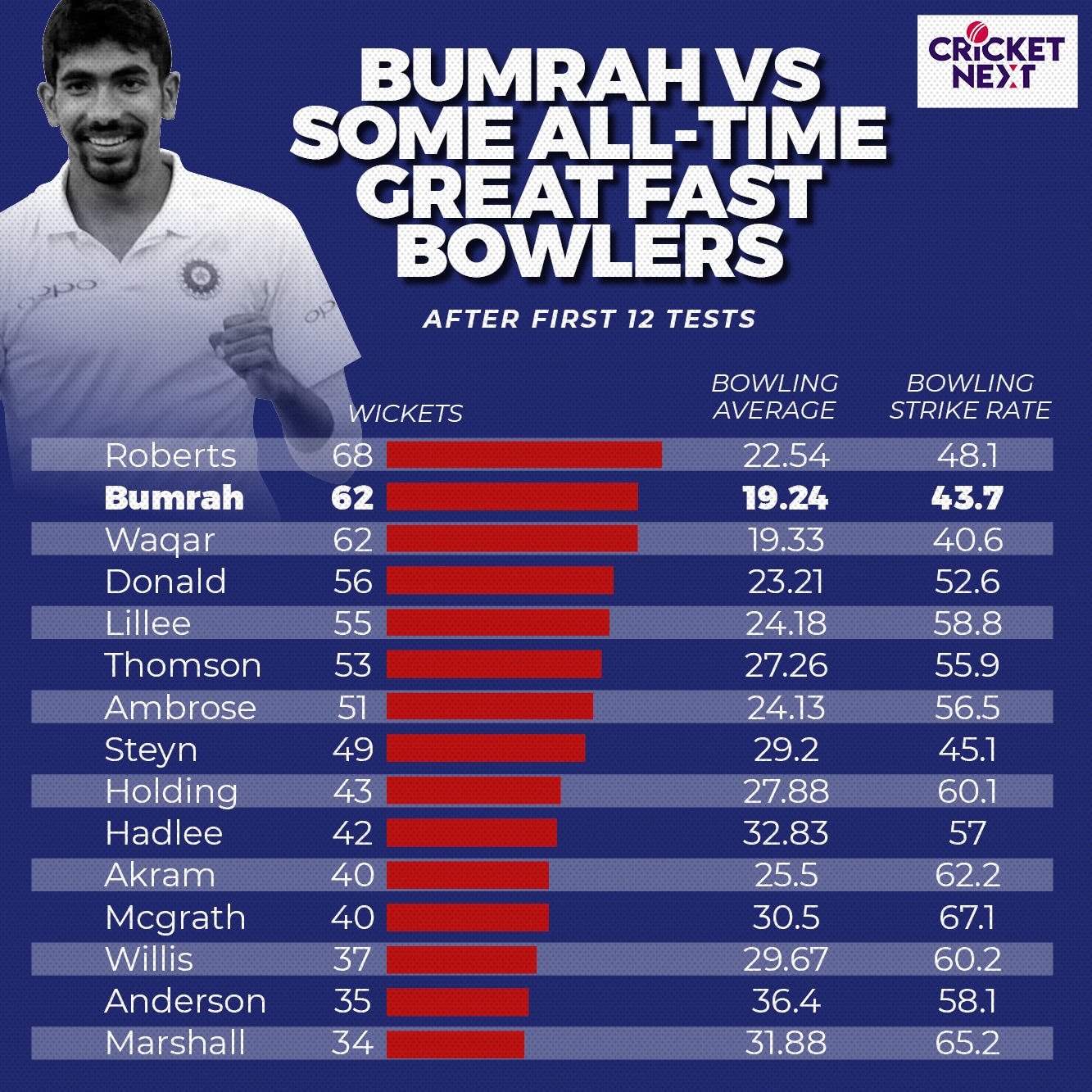 AMONG THE GREATS AFTER 12 TESTS
Post 1960, only 8 bowlers have picked more wickets than Bumrah after their respective first 12 Tests. The Indian is the joint-ninth-highest with Waqar.
Amongst fast bowlers he is the joint-sixth highest after 12 Tests.
That is how good Bumrah has been and that is how lethal a wicket-taker he has been for India.
This means, that amongst the modern greats, Bumrah has a higher tally of wickets after 12 Tests than Garner, Donald, Lillee, Steyn, Akram, Ambrose, Steyn, Holding, Marshall, McGrath, Willis, Akhtar, Lee and Anderson amongst others.
His average (after 12 Tests) is second only to Mohammad Abbas (16.62) and is higher than the likes of Waqar (19.33), Donald (23.21), Akram (25.5), Holding (27.88) and Steyn (29.2) amongst others.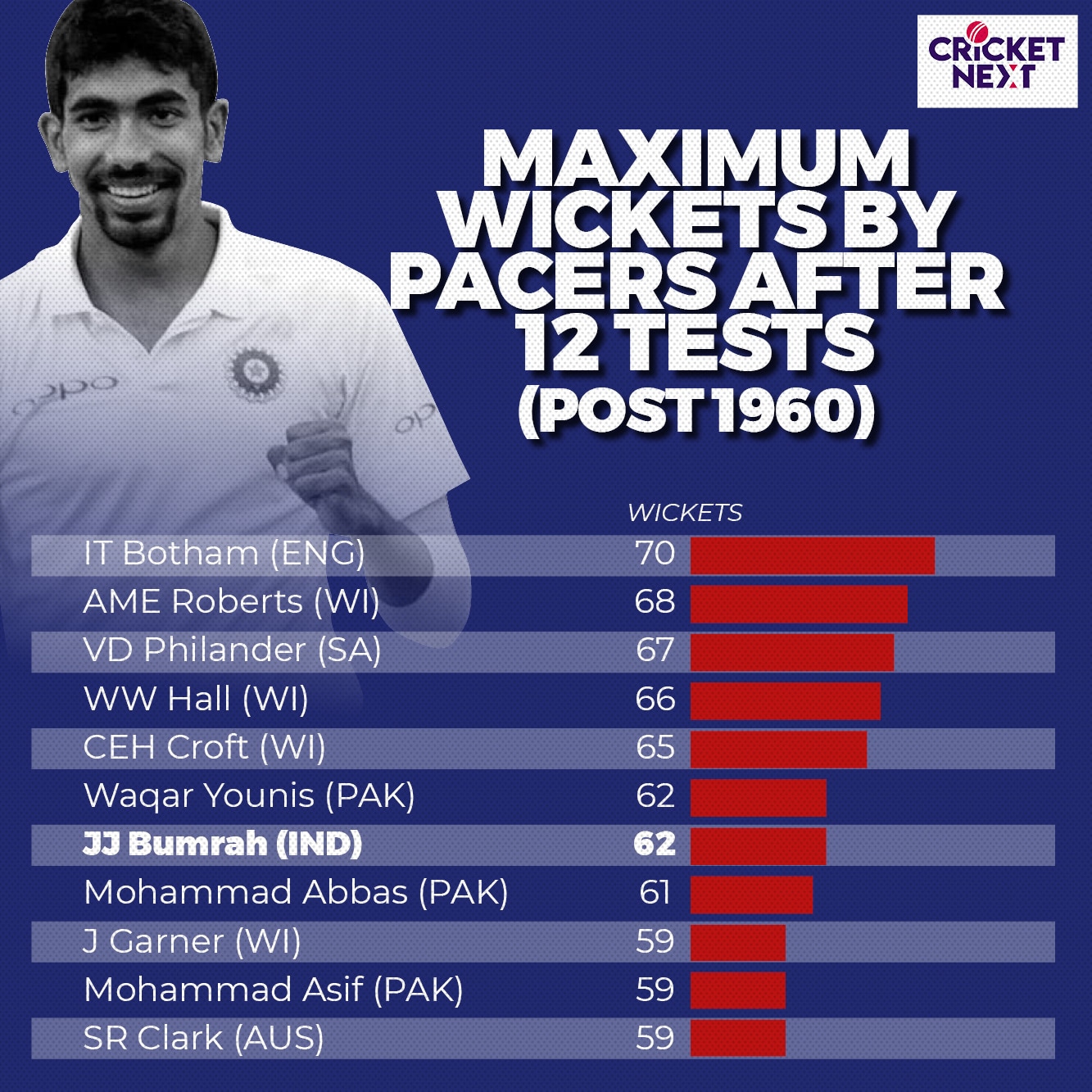 STRIKING EARLY, CONSISTENCY AND LEFT-HANDERS
51.61% of Bumrah's wickets have been of the top-middle order batsmen (positions 1-5) – this percentage would have been higher if not for the great support Bumrah has had with the likes of Ishant, Shami, Umesh Yadav, R Ashwin and Ravindra Jadeja sharing the success.
His record, in particular is outstanding against opposition batsmen in the top 3 positions with an average of 19.57, 13.66 and 6 respectively.
Bumrah has also been very effective in polishing the lower-order and tail – not surprising given his accuracy and mastery of the yorker.
His record against left-handers is outstanding – 24 wickets at 17.16 each including 7 bowled and lbw dismissals each.
One of Bumrah's greatest strengths is his ability to strike with the new ball. 39 of his 62 career wickets have been of batsmen before they have reached 20 in their innings.
What is staggering is the remarkable consistency at which Bumrah has picked wickets in his short career in Test cricket thus far. In 7 (of 12 Tests) he has bagged 5-plus wickets in a match, He has gone wicket-less just three times in the 24 innings he has bowled and picked 3-plus in an innings on as many as 13 occasions.
He has also been brilliantly restrictive and never conceded above 4 runs per over in an innings. In fact, he has conceded 3 or more in just 5 innings.
Bumrah has not only tasted phenomenal success in Test cricket but has already made a deep impact in ODIs and T20Is generating some record-breaking numbers there too.
Overall, for all fast bowlers who have picked a minimum of 150 international wickets across the three formats since 1st January, 2000, it is Bumrah who has the best bowling average and strike rate product – that is how extraordinary he has been!
Bumrah is indeed special. If he can maintain these standards he will go down as an all-time great of the game.
["source=news18"]