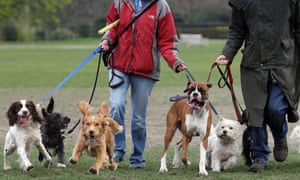 Middle-class households that rely on cash-in-hand cleaners, gardeners and car washers are among the employers deemed most likely to try to avoid paying the increased minimum wage, which comes into effect on Friday. Economists are warning that several million workers who operate in Britain's shadow economy are at risk of missing out on pay increases from the new £7.20 an hour national living wage for workers aged 25 and over, a 50p increase on the old minimum wage.
The government has admitted that it has no accurate idea of how many people are underpaid in the shadow economy and has launched an investigation in an effort to find out. Estimates range from 1.8 million to 6.4 million and experts predict the new pay floor could result in hundreds of thousands more workers shifting to the lower-paid shadow economy, while consumers and businesses balk at paying higher wages in the formal economy.
Across the UK, 1.3 million workers are expected to benefit directly from what the skills minister, Nick Boles, has claimed is "one of the biggest increases in the legal minimum wage that any government has done in the western world in living memory". It is due to rise to £9 an hour by 2020. However, the large majority of workers who operate in the informal economy earn less than the existing minimum wage and will not be covered. They typically work in low-wage businesses, including agricultural day labour and domestic services.
"It is also those doing dog-walking, babysitting, ironing, house-cleaning, gardening and housesitting, who are earning below the minimum wage," said Colin Williams, professor of public policy at Sheffield University. "It is not some Orwellian exploitative employer who is employing this labour, but everyday middle-class purchasers of services."
A third of British households now employ household help, and nine out of 10 pay in cash, according to research this week by Opinium for Esure.
Among those missing out on the new wage floor will be Agnieszka Siwiak, 36, a cleaner from Borehamwood in Hertfordshire who charges householders £10 an hour, but after travel and materials are factored in, she says she earns closer to £5. "Sometimes I don't have money for rent or food," she said. Ioannis Bagiarpakis, 28, a handyman in Cardiff, also averages £5 an hour, and said if he doesn't keep his prices below the minimum wage, he will lose business.
Thousands of minicab drivers who work freelance are also believed to be earning below the minimum wage. "On Tuesday I worked from 10am to 11pm and took £80," said Yassen Aslam, 35, a father of two from High Wycombe. "The government needs to put things in place that protects workers like me. We are being ignored."
Britain has one of the smallest informal economies in Europe, ranking 26th out of 31 OECD nations as a percentage of GDP, according to a new study by Dr Friedrich Schneider, professor of economics at the University of Linz. He predicts that the minimum wage rise could also see as many as many as 800,000 mostly part-time workers slide into the UK's shadow economy. That change would see the value of the shadow economy increase by around £9bn a year.
Several major employers have already moved to reduce the impact of the wage increase by cutting other parts of workers' pay packages. The makers of Ginsters pasties, Samworth Brothers, which employs 8,500 staff, is planning to cut Sunday and bank holiday pay and remove paid tea breaks altogether. It admits that even after the minimum wage increase, some workers' pay will fall by £5 a week. B&Q, which employs 27,000 staff, is planning to cut summer and Christmas bonuses and to scrap premiums for working Sundays and bank holidays.
"The price of the living wage has to be passed on, and in some cases that means to the worker," said Mark Cahill, managing director of Manpower Group UK, a recruitment agency. He also said temporary workers are likely to be hired for shorter working weeks, and predicted that over the coming years employers would seek to automate more low-paid tasks, for example with more self-scan machines at supermarket checkouts.
The Trades Union Congress has criticised the new wage policy as unfair to under-25s. "Future wage increases must narrow the pay gap between old and young," said Frances O'Grady, TUC general secretary. "Employers can do more for low-paid workers, and we urge them to adopt the voluntary Living Wage standard [£9.40 per hour in London and £8.25 in the rest of the UK]."
The shadow work and pensions secretary, Owen Smith, welcomed the policy, but said the government was guilty of "a cruel slight of hand" because it was also making cuts to universal credit and tax credits. He said it "will feel like an act of deception for the 2 million families set to lose £1,600 a year through cuts to in-work support".
The British Chambers of Commerce have cautioned the government not to automatically increase the rate towards £9 over by 2020, without evidence that it is not overburdening firms with employment costs. "Low pay and low social mobility are real problems in Britain today, but they won't be solved just by driving up wage rates," said Adam Marshall, acting director of the BCC. "The best way to get a high-pay Britain is through better education, training, and investment, by schools, universities and businesses alike."

[SOURCE :-theguardian]