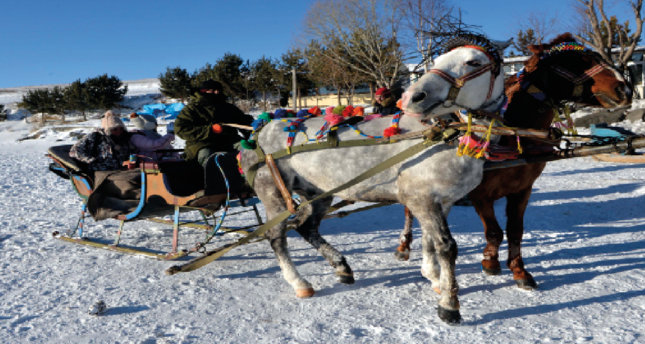 al and foreign visitors to the Cıbıltepe Ski Resort in Kars' Sarıkamış district, one of Turkey's most popular winter tourism centers, are blowing off some steam not only by skiing but also by riding on horse-drawn sleighs.
The Cıbıltepe Ski Resort, which is among the leading winter tourism centers in Turkey thanks to its scotch pine forests, snow and long ski tracks, has recently been flooded by local and foreign tourists.
Having a chance to enjoy the semester holiday, guests come to the ski resort with their children and enjoy themselves by skiing and participating in different activities.
The sleighs at the ski resort that offer the opportunity to enjoy a tour in the presence of picturesque scenes have become popular among local and foreign tourists.
In Sarıkamış, the sleighs are given to guests at the ski resort in addition to being generally used for transportation and freight transport.
Tourists who join the tours with their own sleighs and wander around the ski resort and the surrounding region have the opportunity to watch the unique landscape in clean air far away from the stress of the city.
Kerim Gökcan, a 15-year-old high school student who rides a horse-drawn sleigh to the hotels area in the Cıbıltepe Ski Resort, waits for customers while covering his horse with blankets and feeding it with barley and straw.
Offering an opportunity to tour around a three-kilometer area on his sleigh, Gökcan said he is both earning his pocket money for school and working during his semester break.
Claiming that the sleighs have been used in the area for a long time, Gökcan said: "We are offering our customers a tour on our sleighs in the forests and in the local area. Our customers say they are very pleased with these sleigh tours."
Pointing out that sleighs are popular with both local and foreign tourists, Gökcan said: "With the semester break, the density increased in the ski resorts and there has been an increase in work. I come to the ski resort every day during the semester break. I will come and work on weekends only when school starts."
Gülşen Aslan, who came to Sarıkamış from Ankara to spend her holiday, said the sleigh tours are very enjoyable, adding that it is"really nice" to tour around on sleighs after skiing on the crystal snow.
Stressing that they recover from the tiredness of skiing by touring around on the sleighs, Arslan said: "It is very enjoyable to relax by be driven around in the scotch pine forests on horse-drawn sleighs after skiing. I highly recommend it."
Mert Delibaş, a ski lover, said he really enjoyed skiing in the Cıbıltepe Ski Resort. "It is very nice to ski on the crystal snow amid the scotch pine forests, and it is a pleasure to tour around on horse-drawn sleighs," Delibaş added.
[Source:-Daily Sabah]