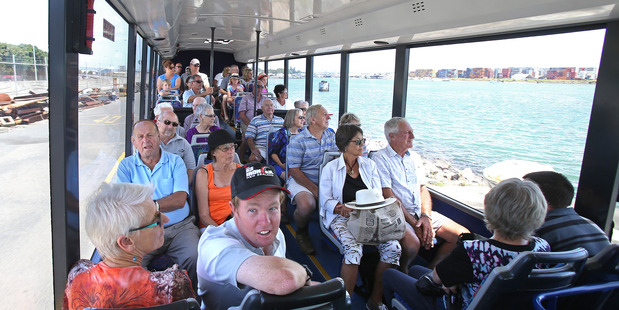 It's all about the stats, and the numbers are huge.
We're taking a bus tour through Port of Tauranga, and driver Mike Bulloch is rattling off numbers that make the mind boggle.
Only 180 people work for the Port itself, he says, but another 15,000 people are employed on site.
We pass a large building where 70 staff are working 24 hours a day to make flour.
We pass another that is packed with "acres of toilet rolls and tissue".
We pass 150,000 tonnes of logs – a relatively small amount that is only enough to fill three ships. Fourteen trains and 400 trucks unload logs here every day. Each log is tagged to allow overseas customers to track its progress, just like a parcel through a post office.
"Every log is spoken for," Mr Bulloch says. "Obviously, logs are a big thing here."
Our tour is part of a rare event that occurs for a couple of weeks every summer, during which buses carry a total of 1000 or more people through areas that are normally restricted for safety and security reasons. Those concerns are still evident, as the bus does not stop to let people off.
Mr Bulloch is still rattling off the facts and figures. Number Three shed has been full of caravans, he says, but soon it will be full of onions.
Our bus noses into Ballance Agri-Nutrients buildings that are all beams, girders and dusty mountains of fertiliser. We are joined by tour guide Anita Grenside, who tells us that staff sometimes find teeth and old bones among the African rocks processed here.
The passengers on the bus collectively have $80 worth of phosphate in their bodies, she says.
"It's not worth dissolving you guys."
Tours start at the port's Salisbury Ave entrance and usually include regular passengers who return each year to check out changes at the port.
Most of the tours this week have already been booked out, but the port's commercial manager, Leonard Sampson, said extra tours would be added at 3pm on some days next week to cope with demand.
[Source:-Bay of Planty news]