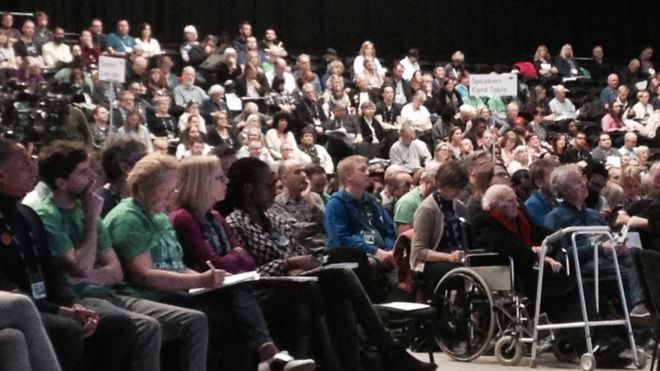 Teachers are calling for a one-day strike as part of a campaign against plans to force every school in England to become an academy.
The National Union of Teachers says there is no evidence to show academy status will improve schools more rapidly than local authority schools.
The union's conference has backed a strike ballot for this summer term.
The Department for Education says the union was "playing politics with our children's future".
And the Education Secretary Nicky Morgan has told teachers she has no intention of backing down, warning another teachers' union, the NASUWT, that there is no "reverse gear" on the proposed reforms.
Mrs Morgan was heckled and faced shouts of "rubbish" from delegates during her speech arguing that the compulsory academy policy would raise standards.
---
Analysis from the NUT conference, Brighton
The National Union of Teachers is no stranger to challenging government education policies – and a call for strike action might also have been as predictable as bad weather over a bank holiday weekend.
But on the issue of the government forcing all schools to become academies, regardless of the views of parents, the NUT clearly feels it is tapping into a much wider sense of unease.
The union's leadership thinks the government has wrong-footed itself over this, antagonising grassroots Conservatives and Liberal Democrats, as well as its more traditional left-wing supporters.
Town hall Tories are a much trickier target for the government than what they would see as conference hall Trots. And there are murmurings of concern about what academy chains would mean for village schools and faith schools.
The element of compulsion could aggravate parents and there might be difficult questions about the merits of successful local schools being handed over to an unfamiliar academy chain.
During the debate over a strike ballot on the academy plans, there was a distinct absence of tub-thumping and rhetoric that might have been expected. Did they have a more steely sense of getting a result?
---
The NUT annual conference in Brighton has supported calls for a sustained campaign against compelling schools to be academies, including a ballot for a one-day strike.
The union's treasurer Ian Murch said it would see schools being "stolen" from local communities by "arrogant ministers".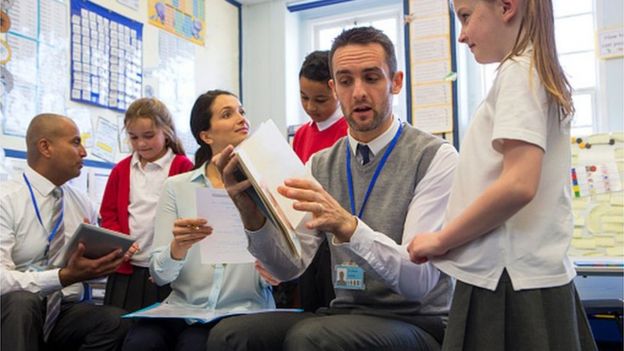 He challenged the handing over of schools to academy chains, saying that it would be a step towards privatisation.
Mr Murch said schools should be seen as a "public service and not a business opportunity"
Hazel Danson from the union's executive said the policy of making all schools academies would cause "absolute chaos" at a time when there were more pressing priorities such as teacher shortages.
She said the plans would "remove parental voice as well as parental choice".
The NUT wants to build a wider coalition of opposition to the academy policy.
Alex Kenny, from the union's executive, told the conference that the government had over-reached itself – and opposition now stretched from "Mumsnet to the Financial Times".
A number of Conservative party representatives in local government have spoken out against the plans which would remove the role of local councils.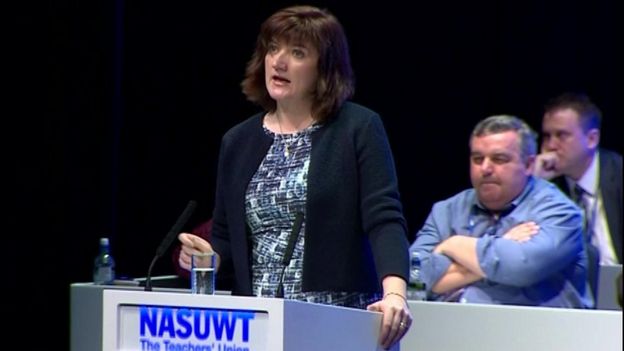 Liberal Democrat leader Tim Farron has said the compulsory academy plan is "worse than misguided – it is downright harmful. It will be a costly and disruptive process for thousands of schools".
The cross-party Local Government Association has spoken out strongly against the plans, saying that it "defies reason" to claim that local authority schools are performing less well than academies.
"Forcing schools to become academies strips parents, teachers and faith groups of any local choice," said an LGA statement.
And it says the academy plans cannot be considered an "appropriate use of public money".
Labour leader Jeremy Corbyn told the NUT conference that compulsory academy status was a step towards "asset stripping" the state education system.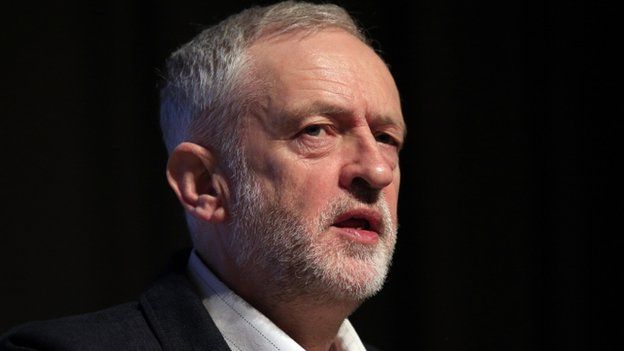 The NUT conference heard calls for industrial action in opposition to the changes, which union leaders say could threaten teachers' pay and job security, as such decisions about pay and conditions would be decided by academy chains.
They accuse the plans of being undemocratic and "evidence free".
The union's deputy leader, Kevin Courtney, has described it as a non-manifesto policy which had been "written on the back of a fag packet".
The union has written to Mrs Morgan calling on her to provide evidence that academies were likely to improve more rapidly than local authority schools.
But the education secretary has made clear that she will not retreat on the policy.
She says that there is international evidence to show that more autonomy for schools helps to raise standards.
And she says that an all-academy system will give greater power to high-achieving head teachers.
A Department for Education spokeswoman said: "It's disappointing that the NUT would rather play politics with our children's future than work constructively with us to deliver our vision for educational excellence everywhere.
"We make no apology for our reforms, which have resulted in a record number of children now being taught in good or outstanding schools – 1.4 million more than in 2010.
"And as set out in our White Paper we are determined to continue with our vision to ensure every single child has the best possible education, as well as raising the status of the profession. It would be refreshing to see the NUT doing likewise."
[SOURCE :-bbc]