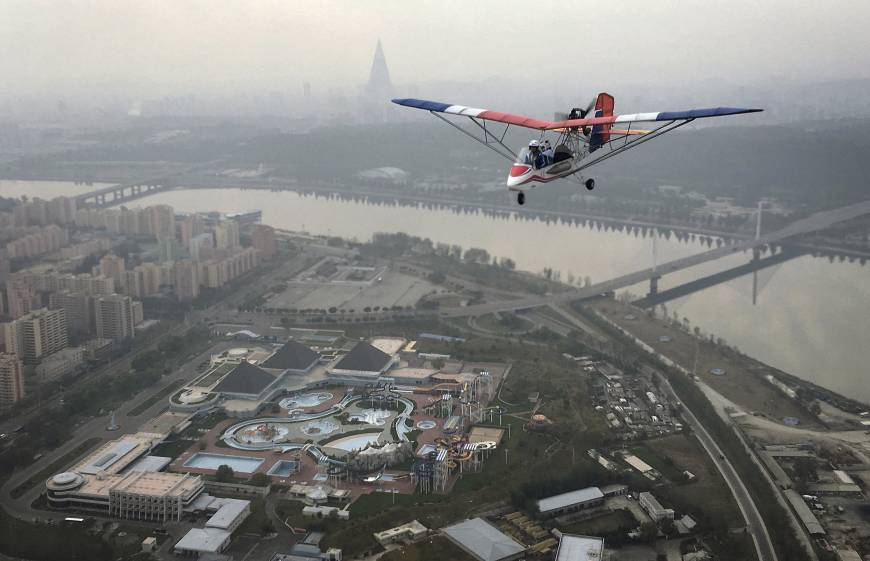 PYONGYANG – Until a few months ago, if you wanted a bird's eye view of North Korea's capital, there was basically only one option: a 150-meter-tall tower across the river from Kim Il Sung Square.
Now, if you have the cash, you can climb into the back seat of an ultralight aircraft.
With the support of North Korean leader Kim Jong Un, who has vowed to give North Koreans more modern and "cultured" ways to spend their leisure time, and with foreign tourism companies looking to entice visitors with unique things to do besides visit war museums and political monuments, a Pyongyang flying club has started offering short flights over some of the capital's major sights.
The tours, which began in late July, are operated by the Mirim flying club out of a fancy new facility on an old airfield adjacent to another of Kim's signature modernization projects: a sprawling equestrian club and horse racetrack.
Officials say more than 4,000 North Koreans have gone up in the ultralight fleet since, along with "hundreds of foreigners" from 12 countries.
The flights go directly over some of Pyongyang's most iconic spots, including the gargantuan May Day stadium, the torch-tipped Juche Tower and Kim Il Sung Square area, and the Munsu Water Park, yet another of Kim's leisure spot "gifts" to the city.
Flights start off over a typically rural setting, with a mixture of farmland and small hamlets.
But that quickly transforms into what one would expect from a city of about 2.5 million: block after block of densely concentrated high-rise residential buildings, some in the drab gray color of concrete but many painted over in pink, beige or blue pastels. Toward the center of the city, spaces open up once again with large public plazas and the parks that surround Pyongyang's many monuments to its leaders and war memorials.
Considerations of places best not subjected to flyovers were almost certainly a factor before the tours could get off the ground. And, just to be safe, photographs taken from the air are screened by club officials after each flight.
But seeing the city from a height of 2,000 meters or less while slowly puttering through the skies provides quite a different perspective from anything tourists, and even most Pyongyang residents, had ever been able to get before.
The flights aren't cheap — a 25-minute ride from the airstrip on the outskirts of the city to Kim Il Sung Square and the Juche Tower, which had previously been the best place to get an urban panorama, goes for around $150. Shorter flights are offered at cheaper prices, starting from about $65, but those only fly around the immediate vicinity of the flight club.
Prices for North Koreans are much cheaper, though club officials wouldn't say exactly how much.
Officials say the ultralight aircraft used for the flights were made in North Korea.
[Source:-The Japan Times]