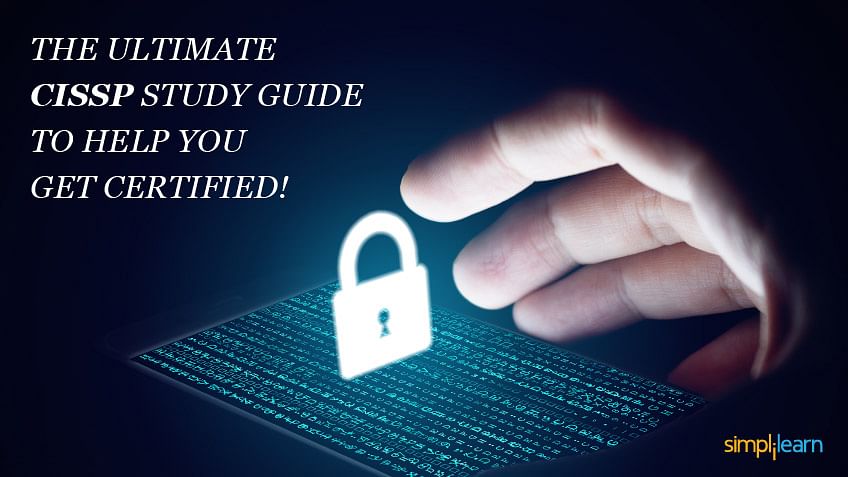 Do you wish to have a validation of your skills and experience? Are you eager to be known as an expert in the field of cybersecurity programs?
To prove that you have what it takes to create, implement and handle even the most complex of all cybersecurity programs, you need to have a certain kind of certification in visual proof, which comes with the existence of CISSP Certificate. Acquiring this bountiful certification can be done through online or offline training courses. Of course, there are other CISSP exam requirements to meet, but once you do, this certification can help you go places.
What is the CISSP Certification?
Certified Information Systems Security Professional is an information security certification which is independent in it's being, created by the International Information System Security Certification Consortium, which is also known as (ISC)². Achieving a position with so much precision will help you enter a realm which offers you a myriad of exclusive resourceful items, tools to help you learn more about your field of work, and opportunities about peer-to-peer networking circuits.
The CISSP Certification is becoming an ideal certification for those who are experienced practice in the morning field of security, are good at managing and executing. People keen to prove their skill and expertise across a wide range of practices and principles in security include positions like mentioned below:
Chief Information Security Officer

Chief Information Officer

Director of Security

IT Director/Manager

Security Systems Engineer

Security Analyst

Security Manager

Security Auditor

Security Architect

Security Consultant

Network Architect
What are the Domains in a CISSP Field of Study?
In the CISSP Certification, there are eight basic domains which you have to master; it is necessary for you to be well versed in all eight of those, if you wish to be ultimately successful – because based on your knowledge in these you will do well in your CISSP examination. The exam evaluates, in detail, your expertise through analysis and scoring of your performance. The domains are as follows:
Security and Risk Management

Asset Security

Security Architecture and Engineering

Communication and Network Security

Identity and Access Management (IAM)

Security Assessment and Testing

Security Operations

Software Development Security
How to prepare yourself to acquire a CISSP Certificate?
With the help of courses led online, or even in classrooms, which are led by instructors, (ISC)² provides options for training that fit your schedule and preferences of styles of education.
Several pieces of training, even seminars, and ways to initiate and indulge in self-study methods offered to you by one of the many Official Training Providers help you be sure of your readiness for the CISSP exams, which require determination and hard work.
What kind of experience is required to be recognized as a CISSP?
Although receiving training in information security is available with the right resources, you need to cross certain thresholds to be able to give the examination to accumulate a CISSP Certificate.
Applicants for the examination are required to hold five years of minimum work experience, which must be full-time and professional in the field of security. Additionally, this experience should be a combination of two or more than two of the eight domains of the (ISC)², CISSP, and CBK.
If not that, then the applicant is required to have four years of work experience, which should be direct and full-time, in the field of security professional; it should be acquired in two or more of the eight domains of the CISSP, CBK along with a college degree (4-years) or a credential from the approved list provided by the (ISC)².
Lastly, if the applicant possesses no experience at all, they can still become an Associate of (ISC)². This can be achieved by passing the CISSP exam with flying colours. Gradually, they will need to have six years to earn their experience to become a certified CISSP.
Are there any tips to make giving a CISSP examination easier?
It will be less chaotic to know how to acquire CISSP Certification in the First Attempt, by going through a few helpful tips:
Understand its requirements
The foremost important thing to consider when applying for a CISSP examination is that you understand what it requires from you as a knowledgeable resource. It calls for you to be aware of and versed in all of the eight domains from the (ISC)².
You need to analyze and be fluent in the language that is spoken in the field of security and CISSP domains. This allows you to understand what a particular question is about, and what the requirement of a particular work is; hence, propels you to deliver the right solution.
Studying from only one source merely because it is convenient is not the right way to go. One study guide may seem like it contains all possible information you require in compact paragraphs, but reading from different sources allows you to increase the range of your knowledge and be able to frame an answer in multiple ways. It lets you have several outlooks for one particular problem.
Finding peers helps, especially who have the similar goals in mind. Just like having several study guides, surrounding yourself with several others who wish to acquire knowledge in the same field as you allow you to learn from them, and even teach them while studying. It even opens opportunities for all the parties to seek a place to put your skills into.
One of the most important things to take note of while studying for a CISSP examination is that you need to calculate the amount of time you have in your hands and distribute it justifying. It enables a sense of responsibility within you and doesn't hamper your lifestyle outside of acquiring a CISSP Certificate. You need to give time to each type of studying method and make sure that you go through concepts more than two times to ensure a sense of understanding.
Plan your Exams Beforehand
You need to plan out a strategy to use while giving your exam. Your mind has to be sure of which segment to tackle first, and understand the concept of limited time.
Get a good night's sleep and an ample amount of rest before your exam.
Do not rush yourself. There is no need to muster information up at the very last minute; keep your mind free for a while right before giving your CISSP examination.
Why should you strive for CISSP Certification?
Once a person becomes well versed in how to bag a CISSP Certificate, and successfully achieves it, how having the certificate would benefit one – you might be wondering. Then let's delve into how getting this certification would prove to be advantageous.
A valuable resource:  

Being certified as a CISSP allows you to explore more about your field of knowledge and learn more about every aspect of it in detail. You acquire expertise in how information security works, and understand ways to have extensive research in it. Because of this, you become a valuable resource in the eyes of an employer. Your position in the works of professional technology organization becomes renowned

Increases your job opportunities:

Furthermore, being certified spreads the word about your skills. That ensures opportunities for you to enable jobs in a wide range of workspaces. You get a chance to showcase your knowledge in a lot of fields, which eventually allows you to find the perfect place to work for

Perks of being a member of (ISC)²

: You hold the power of receiving exclusive benefits as a member of the International Information System Security Certification Consortium (ISC)²

Respect in the workplace:

The intensity of your professional credibility increases with the knowledge you acquire, and you receive validation as a prized employee in any workplace
Final thoughts on Certified Information Systems Security Professional…
When you wish to become a professional in a field of work, it is only reasonable that you strive to be the best at it. Your expertise becomes your weapon on a battlefield. Sharpening the ax of your skills enables a sense of security of your future. Employment is the threshold of a secure life and a healthy lifestyle. It propels a person to become organized and aim to make use of his resourcefulness. Getting extensive knowledge in the field of work you want to be employed in lets you have that sense of pride, and proves your validation as a social, earning being.
Becoming a prized possession of the company or organization you work for increases your value and worth in the eyes of other competitive employers, and yourself as well. It further propels you to acquire a sense of confidence, allowing you to work effortlessly.
In lieu of gaining so much information, and indulging in a detailed study of information security, you allow yourself to be more efficient in the workforce. Being under the supervision of training courses, and experts help you increase your productivity and value as a human resource in the field of cybersecurity programs.
CISSP is learning which lasts a lifetime; hence, you need to make sure to maintain the consistency of your determination. Passing the examination is the first step to lifelong success and happiness – the rest of the steps will be conquered depending on your willpower, and skills.