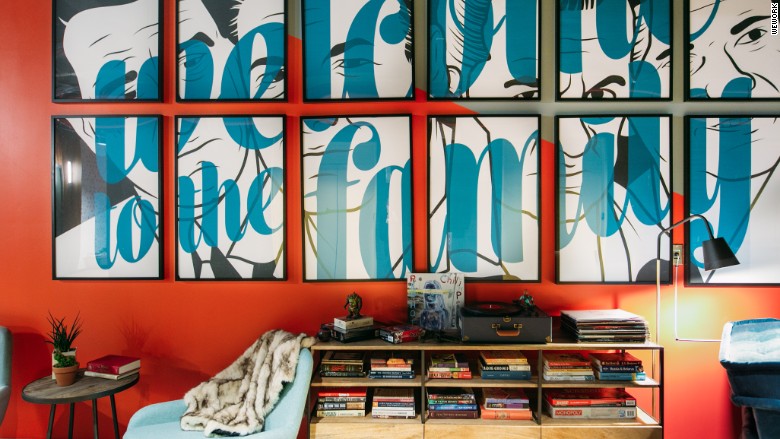 WeWork's footprint is getting even bigger.
The real estate company has made a name for itself as a coworking mecca, leasing buildings and turning them into collaborative work spaces for entrepreneurs.
It's raised $1.4 billion from investors since launching in 2010 and is valued at $16 billion. It has 91 locations in 12 countries.
On Monday, the company unveiled its newest endeavor: housing. Called WeLive, residents can rent a bed — or a private room — in one of its first two coliving locations: In New York City or Arlington, Virginia.
There are more than 200 units in its Wall Street location, some of which are already occupied by beta testers.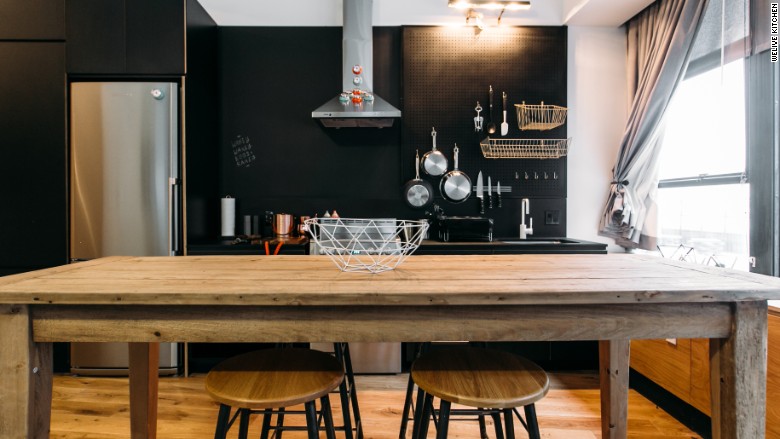 The units range from studios to four bedrooms (which sleep up to eight people) with one or two restrooms per unit. All spaces are fully furnished.
Rent starts at $1,375 for a bed in a shared unit (or $2,000 for a individual studio) — and residents also pay a $125 monthly fee for monthly cleaning services, laundry, cable, internet, kitchenware and more. As in WeWork spaces, the fridges are always stocked with Pelegrino, Smart Water and, of course, beer.
To further bring home the sense of community, there are many common spaces throughout: dining rooms, ping-pong and pool tables, and a studio with free barre and yoga classes. There will occasionally be free dinners and events hosted in the space, similar to WeWork's coworking areas.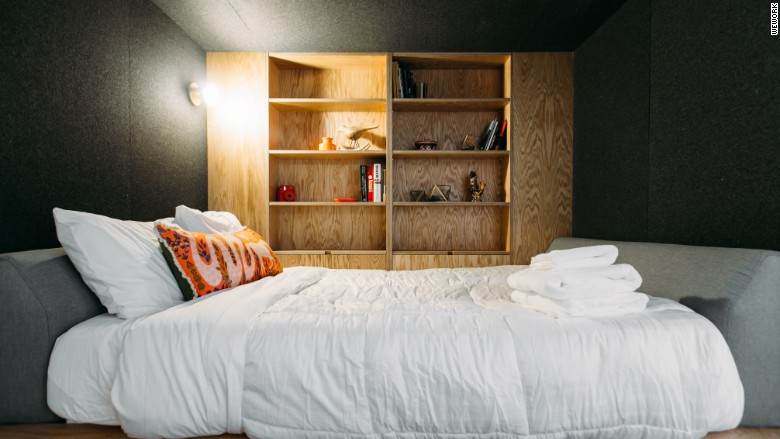 WeWork isn't the first to test out the concept of coliving. In October, CNNMoney visited Common, which offers a similar service at a similar price. It starts at $1,500, including amenities. It now has two properties in Crown Heights, Brooklyn.
But unique to WeWork is the opportunity for people to take advantage of both the living and working spaces. After all, the first six floors of its Wall Street location are for WeWork, while floors seven through 27 are WeLive.
"The whole idea is that we never have to be alone anymore," wrote Neumann in a blog post."We're all pioneers in what we call the 'We' generation."
WeWork won't require residents to prove that they can pay forty times the monthly rent. That's a typical ask of renters in New York City — and one that's difficult for many. In the post, Neumann stressed the flexibility of its WeLive locations, a major selling point.
"Whether you decide to stay with us for a day, a week, a month, or a year, our design team has made sure you will feel like home," he wrote.
[SOURCE :-money.cnn]