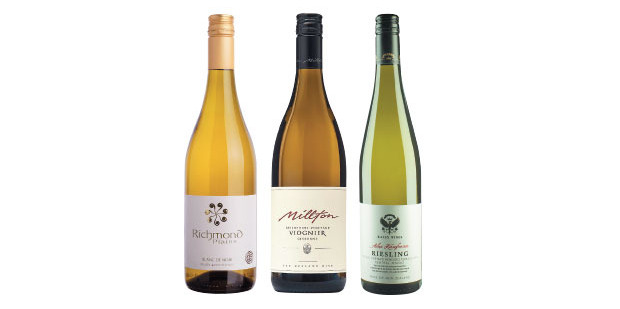 Richmond Plains Nelson Blanc de Noir 2016 $22.99
When it comes to producing New Zealand's first certified organic and biodynamic pinot noir, the team at Richmond Plains can claim that victory. They've taken ripe, handpicked pinot noir fruit, crushed it and quickly whisked the red skins away – so the wine remains white. The aromas are of stonefruits, soft cherry and black guava, followed by incredibly juicy, concentrated peach and red apple and wild strawberry flavours.
Sip with: steamed pork, prawn and coriander dumplings.
Millton Riverpoint Gisborne Viognier 2015 $26
Here's a lovely mandarin-massaged viognier from the sun-soaked east coast. Perfect to serve with salty, savoury dishes, this organic, biodynamically-grown wine oozes citrus oil, apricot kernel, grapefruit zest and reveals a clean, succulent mouthfeel.
Sip with: paper-thin slices of prosciutto.
Kalex Bendigo Terrace Dry Riesling 2014 $32
Wow! Lime alert! This southern star smashes through the palate with green apple and quartz-powder, mineral-driven mouthfeel that lingers long. The citrus intensity is one thing, but the honeysuckle and hints of biscuit really add to the complexity of this wine. It's a clean, zingy wine that zips into action immediately.
Sip with: chicken, apple and hazelnut salad
[Source:- New Zeeland Herald]