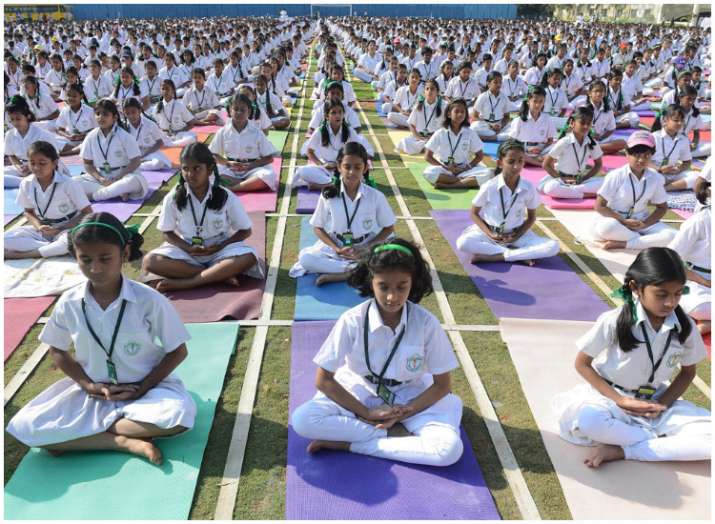 Needless to say, yoga has many health benefits. It keeps your body fit and energised throughout the day. There also have been many campaigns going on to promote yoga for its significance in staying healthy and fit.
International Yoga Day is also celebrated every year to foster awareness about the same. In fact, talking about yoga, it has been recommended to be made a part of school curriculum as more and more people are suffering from ill health due to lifestyle diseases. This recommendation has been given by Vice President, M. Venkaiah Naidu on Monday.
Speaking after releasing a book, 'Yoga and Mindfulness: The Basics' by yoga exponent Mansi Gulati (Konark Publishers), Naidu said that while life had become easier with modern gadgets, it had brought with it issues like sedentary lifestyle.
People have to adopt a "meaningful proportion in our activities", Naidu said.
The Vice President said the air conditioner while conditioning the surrounding air was also "conditioning the mind".
"We can't see the sun or the light, we can't enjoy the nature," he said. People were going to doctors for Vitamin D deficiency or lack of exposure to sunlight. "Food includes sunlight also," he said to applause.
The Vice President said earlier physical activities used to be part of daily routine.
"Literally there is no activity now and the effect is that diseases are propping up," he said. He added that people were not in touch with nature and they were not exercising.
"Yoga has acceptance across the world and it has nothing to do with religion," he said. Anyone with any religion can practice yoga. It would help the mind and body work better.
"I personally feel that yoga should be made part of the school curriculum."
So, with this useful piece of VP's advice, let's hope to live a healthy lifestyle by choosing yoga in our daily's life!
["source=TimeOFIndia"]