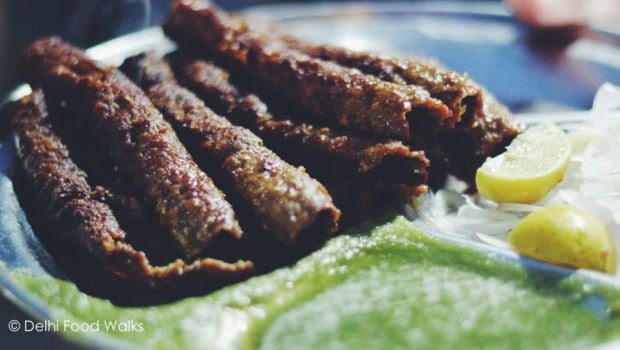 Zakir Nagar is a one-stop destination for anyone looking for authentic flavours reminiscent of the Mughal royalty. Meat lovers would've never thought that paradise would present itself to them as the crowded by-lanes of Zakir Nagar. Akin to every street food joint, the shops in Zakir Nagar too serve to satiate the customers' taste buds without thinning their wallets. The narrow streets are lined with tiny shops, strongly aromatic of Mughlai delicacies such as tandoori kebabs
, paya, soft breads, tasteful biryani and nihari. The atmosphere around this place has a pleasing char-grilled smell, which is enough to entice the passers-by to approach these shops and have a go at the dishes listed on the menus. Buffalo meat (bade meat) is very popular here and one can easily get a plate of kebabs made with this succulent meat for INR 40 only. Interestingly, one can also spot bakeries which excel at baking their own breads with dexterity, some of which are sheermal, khamiri roti, bakarkhani
and soft buns.
We have zeroed down on a few gems which caught our attention:
1. Purani Dilli Restaurant
The Purani Dilli Restaurant was established in 2004 amidst the food haven of Zakir Nagar. It is probably the only restaurant by definition, as it ensures proper seating arrangements and is air conditioned, offering optimum comfort to the customers. The walls are authentically decorated with photographs of Delhi Gate and Jama Masjid, reminding people of the glorious origins of the food they are relishing. This restaurant is known for its haleem, nihari and biryani. The Chicken Haleem is lusciously thick, which makes for a fulfilling dish. The chicken is cooked with grains and lentils on a slow fire. The meat is exposed to heat so much so that it falls off the bone and becomes a tender, almost pasty texture that just melts in your mouth and leaves a rich aftertaste. Paired with khamiri roti, it makes for a decadent meal. The Chicken Nihari too has gained quite a reputation; the slow cooked chicken in rich, spicy and the flavour-packed gravy appears as food for the soul. Haleem Biryani is another speciality, which is primarily biryani rice smeared with the thick luscious haleem and topped with golden fried onions.
Where: 371, Main Road, Zakir Nagar, Okhla; Nearest Metro Station – Govindpuri
Tel: +91 98918 78333, +91 99998 16299
Price: INR 600 for two approx
Timings: 12 noon-3.30pm, 6pm-11.30pm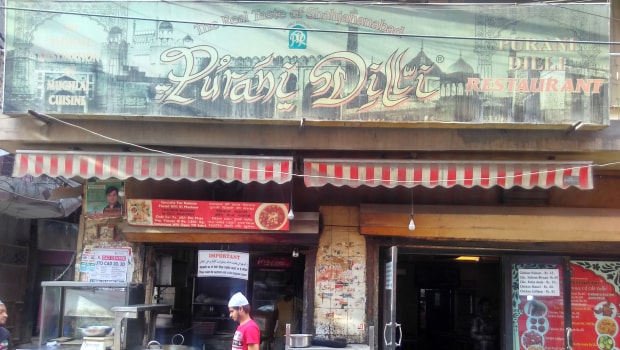 2. Blenders Shake
Blenders Shake is a small juice and shake corner, which sells excellent, thick anjeer (fig) and khajoor (date) based shakes. The khajoor shake is of a smooth, creamy and frothy texture, peppered with bits of khajoor chunks in it. The anjeer shake is comparatively grainier, because of its seeds. It is equally flavourful and honestly refreshes the senses.
Where: Front of Urgent Care Clinic, Shaheen Bagh, Jamia Nagar, Okhla
Tel: +91 97618 34186
Price: INR 100 for two approx
Timings: 7am-11pm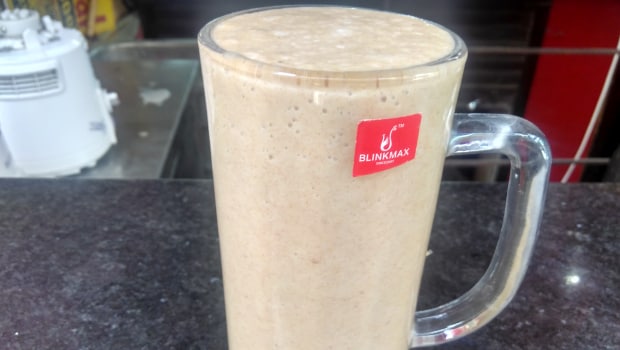 Khajur Shake; Photo Credit: Pallav Pandey
3. Al Rashida 
It is famous for its Galouti Kebabs made with buffalo meat, which instantly melt in the mouth, filling it with a pleasant burst of flavours owing to their juiciness. These kebabs are bound to leave you completely awestruck.
Where: Shop 2, Gali 12, Zakir Nagar
Tel: +91 99110 80787
Price: INR 250 for two
Timings: 6pm to Midnight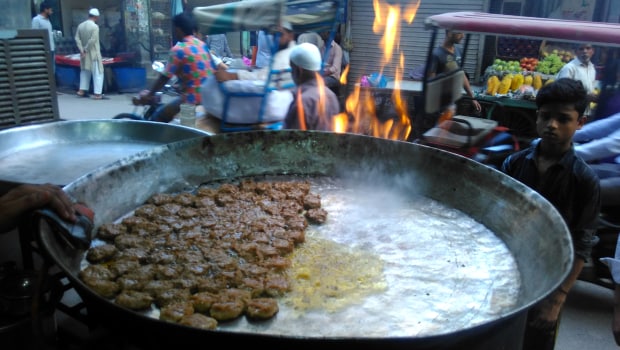 Galouti Kebabs; Photo Credit: Pallav Pandey
4. Talib Kebab Corner
Talib Kebab Corner is a humble food corner which is famous for its soft and juicy tikkasand kebabs made with buffalo meat. You need to make your way through the narrow lanes to indulge in these meaty treats, but it's definitely worth it.
Where: 143, Jogabai Extension, Zakir Nagar
Price: INR 400
Timings: 12 noon to 10 pm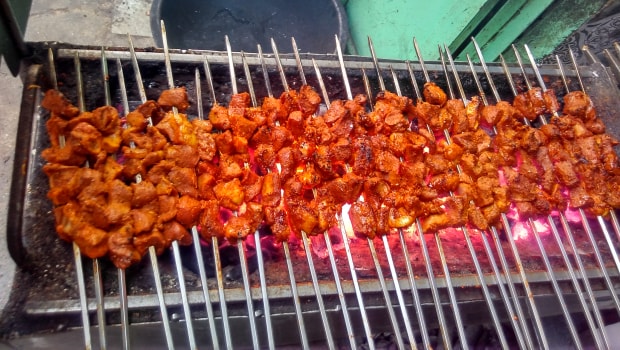 Talib Kebab Corner; Photo Credit: Pallav Pandey
5. Gulbahar Chicken Fry
Gulbahar is popular for its fried chicken. Complete with a crispy covering outside, which is complemented by the juicy meat inside, it easily reigns above other fast food joints serving this dish. The chicken, along with the bones, are marinated for a long time and then deep fried to perfection, making them ready to be served with onion slices and coriander-mint chutney.
Where: N.F.C., Zakir Nagar Main Rd, Joga Bai Extension, Okhla
Tel: +91 81301 28867
Price: INR 400 for two approx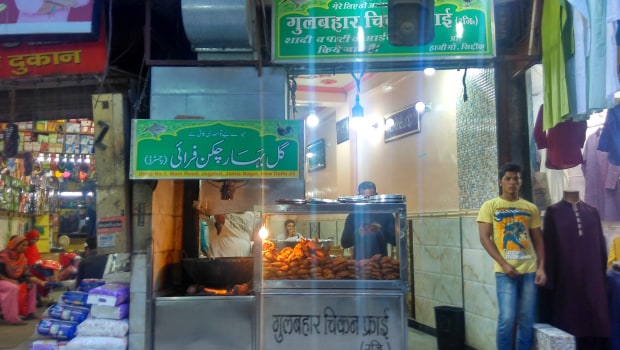 Gulbahar Chicken Fry; Photo Credit: Pallav Pandey
6. Al Umar Chicken Point
Al Umar serves delicious Chicken Tikka coated generously with heavy cream and butter, lending it a rich aftertaste. INR 500 for a full plate is total value for money, we feel.
Where: A-2, Near Batla House, Batla House Chowk, Zakir Nagar
Tel: +91 98102 17786
Price: INR 700
Timings: 12:30 noon to 3:30pm, 6:30pm to 11pm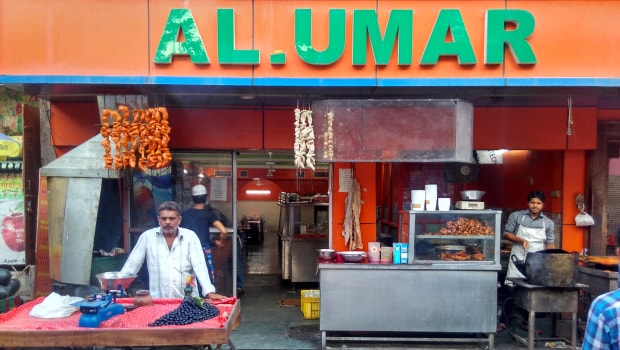 Al Umar Chicken Point; Photo Credit: Pallav Pandey
7. Javed Famous Nahari 
As the name suggests, it is famous for its nahari or nihari,  which is delicious with its rich, spicy flavour that can compel one to ask for a second or third helping. Slow-cooked tender meat gradually melting in the mouth for just INR 70 is a total steal.
Where: 392, Near SBI, Main Road , Zakir Nagar
Tel: +91 98103 29635
Price: INR 600
Timings: 11am to 11pm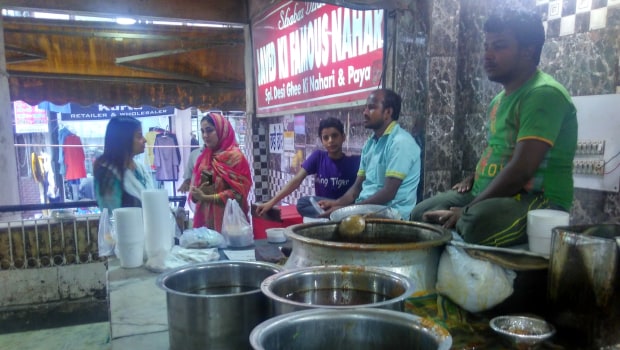 Javed Famous Nihari; Photo Credit: Pallav Pandey
For Sweets and Desserts
The roadside vendors located near Badi Masjid serve phirni, which is the perfect companion to beat the merciless heat. Phirni is a slow cooked rice kheeror pudding topped with lots of dried fruits and nuts. It is rich and creamy in texture and is usually served chilled.
The Shahi Tukda is also at par with the phirni, and is equally yummy. It is basically deep-fried bread smeared with a luscious layering of rabdi or condensed milk and topped with nuts.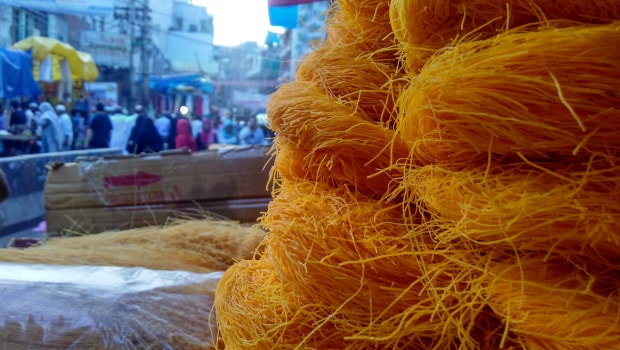 ["source-food.ndtv"]