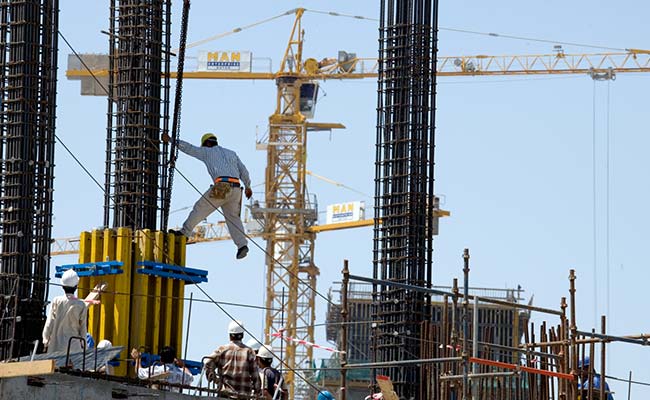 New Delhi
: Union Finance Minister Arun Jaitley on Thursday announced that the Centre will create a dedicated affordable housing fund in the National Housing Bank. His announcements for developing better connectivity through air, road and rail are expected to give an impetus to the real estate sector.
"My government will also establish a dedicated Affordable Housing Fund (AHF) in the National Housing Bank, funded from priority sector lending shortfall and fully serviced bonds authorised by the government of India," he said while presenting the Union Budget for 2018-19.
In line with the government's "Housing for all by 2022", more than one crore houses were being/would be built in rural areas in the current and next financial year under the Pradhan Mantri Awas Yojana, he said.
In urban areas, assistance has been sanctioned to construct 37 lakh houses.
"The announcement of a dedicated Affordable Housing Fund seems to be the right move towards achieving the vision of 'Housing for all by 2022'," Anarock Property Consultants chairman Anuj Puri said.
The allocation of Rs. 14.34 lakh crore for livelihood and infrastructure upgrades in rural areas will bring a clear focus on the building of roads, which will certainly boost budget housing as it is invariably developed in well-connected peripheral areas, Mr Puri said.
"Strengthening affordable housing sector through creation of an affordable housing fund will allow better access to capital for related developments in urban and semi-urban areas," JLL India CEO and country head Ramesh Nair said.
Company 99Acres' Narasimha Jayakumar, chief business officer said that the dedicated fund will help create more affordable supply as well as drive demand from genuine end-users.
"A major push on highway development and inner-city rail networks (Mumbai, Bengaluru) will give the necessary impetus to real estate development. Further push to UDAAN (56 new airports), development of 600 plus new railway stations will mean better connectivity to smaller towns, spurring real estate development beyond metros," he said.
Mr Jaitley pointed out that a roof over the family's head is another concern for the poor.
"Far from the benami (proxy) properties earned through corrupt means, the poor only desire to have a roof, a small house by his honest earnings. Our government is helping them so that they may fulfil the dream of owning a house," he said.
However, experts are disappointed with no changes in the income tax slabs and absence of other direct measures that influence the real estate sector.
"The real estate sector's longstanding demand of getting an 'industry' status has once again not found mention. Further, there was no concessions for ECB for real estate."
"The sector expected to see some measures to infuse demand, with relaxations in key tax rates like 80C, 80CC and 24B, which too have not been addressed. Aspects like single-window clearances, uniform stamp duty or reduction in Goods and Services Tax rates on real estate were not mentioned either," Mr Nair said.
Mr Jayakumar also said that the industry was disappointed with no changes in income tax slabs or GST slabs, translating to no extra benefit to new home buyers, especially in metro markets.
However, Mr Jaitley indicated the government was coming down heavily on cryptocurrencies such as Bitcoin.
According to Mr Puri, there was conjecture that cryptocurrencies would find their way into the Indian real estate, as it has in developed countries, effectively becoming the 'new black money' in the sector.
"With the government now intent on taking all necessary steps to eliminate the use of cryptocurrencies in India, people who were looking at them as a get-rich-quick route will have to look at traditional asset classes and investment routes again," Mr Puri added.
["Source-ndtv"]