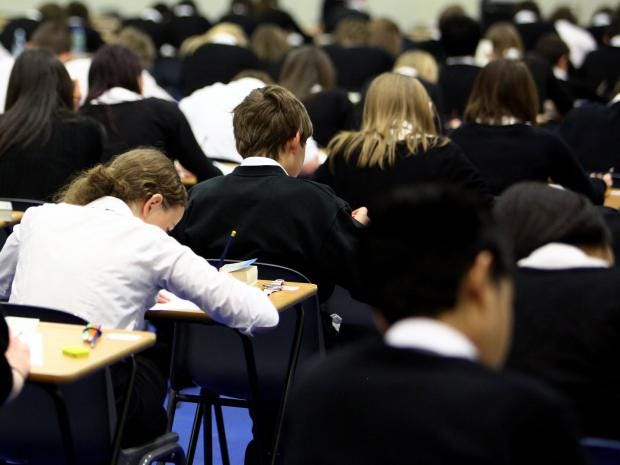 White British children are being overtaken by pupils from other ethnic backgrounds because their parents are not doing enough to support them, researchers say.
Stronger attitudes among Chinese, Asian and black African communities to key aspects of family life – including mealtimes, strict bedtimes, parental supervision of homework and discussion of subject choices – are all reasons why children from other ethnic backgrounds do better than white British pupils, the academics said.
In the early years of education, white British children are among the highest-achieving ethnic groups. But by the time they sit their GCSEs, they have fallen 10 places in the rankings to just below average, according to a new and wide-ranging report into the state of English education by the CentreForum think-tank.
Pupils for whom English is an additional language (EAL) make enormous progress during their school careers. By the time they sit their GCSEs, EAL pupils outperform non-EAL pupils with 40.2 per cent of EAL pupils achieve a challenging GCSE target set by CentreForum  – to achieve 50 points or higher in eight subjects called Attainment 8 – compared with 37.6 per cent of non-EAL pupils.
Chinese pupils were way ahead of other groups with 73 per cent achieving this standard.
Jo Hutchinson, the think-tank's associate director for education, said previous research suggested that high parental aspirations only played a small part in the achievement gap between different ethnic groups. She said: "What is bigger than aspiration is parental engagement. We are talking about things such as parents attending parents' evenings at school, talking to their children about subject options, supervising homework, ensuring that the family eats together and has regular bedtimes.
"Those sorts of things appear to be more associated with this effect than pure aspirations. It's not just aspirations but behaviours that support the aspirations.
"Most parents actually want their children to continue in education and be successful in education. What sometimes differs is the extent to which they have the knowledge and the tools and resources to actually help them make that aspiration real."
David Laws, the former Liberal Democrat MP and schools minister under the Coalition who is now CentreForum's executive chairman described the gap as "a very striking outcome" of the research and the performance of white pupils as "very bad". He said: "I don't think we know all the answers to this. We know that we've got this very bad performance of white pupils versus other ethnic groups. We know from this analysis that it's not embedded in the beginning of education because actually they appear to be doing relatively well at the beginning of their journey. So something is clearly happening about their ability to take advantage of the opportunities that other ethnic groups do manage. "
The CentreForum analysis found that although attainment was improving, over 60 per cent of secondary and over 40 per cent of primary pupils were still failing to achieve a world-class standard.
Researchers warned that England would plummet down international league tables in 2017 when new, more challenging, GCSE exams would see  the proportion of pupils achieving a 'good pass' in English and Maths  drop "very significantly".
If the 2015 cohort had been assessed against these new standards, the percentage of pupils who would have achieved a pass in English and Maths would have dropped by around 23 percentage points from 58 per cent to 35 per cent.
Researchers also found a clear North/South divide in secondary schools' GCSE results , with 44 per cent of pupils reaching a world class benchmark in London, compared to only a third in the East Midlands and Yorkshire and the Humber.
The worst performing areas in the country in both attainment and progress at secondary school, were Knowsley, Blackpool, Stoke on Trent, Nottingham City, Barnsley and Doncaster.
The gap between disadvantaged pupils and their peers remained significant, with four out of five disadvantaged pupils failing to achieve a  world-class standard at secondary and more than half at primary.
[source :-independent]