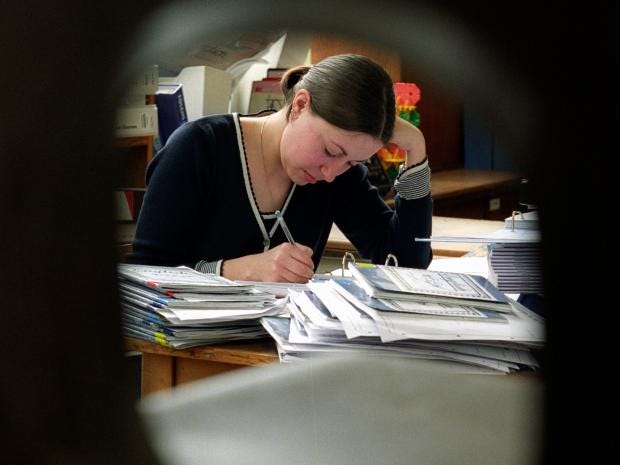 More than four in five teachers have considered leaving the profession because of pressure of work, according to a new survey out today.
The poll of almost 900 teachers by the Association of Teachers and Lecturers revealed 83 per cent were considering quitting – while one in four (24 per cent) said they would be gone in two years
It comes on the eve of the union's annual conference in Liverpool where the union will warn today of a "deepening crisis" in recruitment – largely caused by worries over the workload teachers face.
One English teacher from Oxfordshire told researchers: "I just can't manage the relentless workload… My marriage has recently broken down and I am now divorced.
"My ex-husband said it seemed school was always more important than him and the family."
A teacher in an academy from Tyne and Wear added: "I don't feel I have a life outside school. I am physically and mentally exhausted when I come in from work."
Asked what stopped people from becoming teachers, two-thirds cited a lack of respect for the profession, 62 cited pupil behaviour and 48 per cent pay.
Almost a third said teacher shortages had meant they were being redeployed to teach a subject in which they did not have a degree.
One teacher at a secondary school academy in London said: "The management believe that anyone can teach any subject regardless of their degree subject."
"The government must take heed of what teachers say is fuelling the crisis and admit that tackling the shortage is about making the profession a more attractive one to join and stay in.
"So far the Government's response has been inadequate, relying on expensive gimmicks like 'Troops to Teachers' that cost £10 million and resulted in just 41 veteran recruits.
"The situation is becoming a vicious circle – the abysmal/life balance puts people off and then teacher shortages contribute to an unmanageable workload, making more teachers want to leave."
A spokesman for the Department for Education said: "No-one is more determined to raise the status of teachers than this Government and we want to work constructively with the sector and unions to do so.
"Despite claims to the contrary, teaching remains hugely popular with UCAS figures showing a rise in teacher training applications and acceptances and over a thousands more graduates training to teach secondary subjects than last year."
The Government had, he added, acted to reduce teachers' workload by accepting a reccomendation from a working group to cut down on the amount of data they had to collect.
[source :-independent]