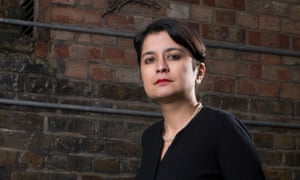 More than 130 museum professionals crammed into the Imperial War Museum's auditorium recently to discuss power, patriarchy and gender politics in the sector. The event, entitled Space Invaders: Women Museum Leaders, looked to kickstart a public debate about the lack of gender equality in museum leadership.
Leading thinkers in this field who took part included Shami Chakrabarti, director of Liberty; Sharon Heal, Museums Association director; and Mark Carnall, collections manager at Oxford University Museum of Natural History.
There was robust discussion about glass ceilings, bottlenecks and glass elevators (not to mention those sticky floors). You can add to this mix the "glass cliff" where female CEOs are being hired to fill the riskiest jobs with the fastest turnover.
So how do we support diversity to, as our host Hilary Carty elegantly put it: "smash the triple-glazed glass pyramid?" Here are some key points from the day.
Get on board
What does a museum leader look like? Like me? You? If not, why not? Class continues to be a barrier for accessing these roles, which is being compounded by austerity. "Social cloning" (where employers recruit in their own image) takes place from the earliest stages of careers and boards perpetuate these cliques.
As one participant observed: "Trustees will recruit blokes in suits because they are blokes in suits."
In order to foster an inclusive organisational culture, change must be ingrained from the top. Museum trustees must start to embody as well as drive the business case for diversity and inclusion. More than 90% of delegates and Twitter poll voters agreed that boards should set measurable diversity targets.
Staff should also take unconscious bias tests, be aware of their cognitive dissonance and reflect on their prejudices, said Emma Green, diversity manager atTate, during a discussion on inclusive leadership.
Want to contribute towards making museum boards more culturally diverse? Look out for opportunities on the Cabinet Office's monthly public appointmentsvacancy list.
More number crunching and better interpretation of data
Museums are good at publishing their commitments to equality, but poor at capturing sufficient data to back up their pledges. The sector must start routinely collecting, tracking, aggregating and sharing data on staff diversity and
inclusion.
Key agencies including the Department for Culture, Media & Sport, the Museums Association, Arts Council England, the National Museum Directors' Council and the Association of Independent Museums must work together with HR departments to benchmark, monitor and drive change. We also need more transparency and open dialogue as part of the process.
But beware of the pitfalls when categorising staff into survey boxes, attendees heard. We need to start coming up with better terms of reference that reflect our evolving hybrid identities. In other words, we must acknowledge our intersectionalities. Millennials are more clued up about this and museums need to catch up to stay relevant to our changing times.
Be a story hacker
How are women represented in collections? Narratives that survive time tend to centre around power and influence, so it's little wonder that women are excluded from huge swathes of our historical storytelling in museums.
In a rousing speech, Chakrabarti delivered a call to action to organise a mass celebration in 2018 to mark 100 years since the Representation of the People Act, which granted women the right to vote. Let's aim for all cultural institutions to programme lots of cultural activity around a meaningful anniversary such as this. Museums can be neutral, but still be radical. They should hold a mirror up to society, not be a beige space.
Lever those networks
The power of professional networks combined with activism and social media can be a force to be reckoned with. Solidarity is the magic word – the structural barriers for women are unacceptable and we must use our collective power to burst through the glass pyramid. Never underestimate the power of your personal agency to make change.
We were delighted when the Women Leaders in Museums Network made it their business to send down some glass elevators so a larger cohort of women across the regions could hop on board the Confidence, Choice, Connections (CCC) programme, an effective initiative that's already bearing fruit.
Mentoring and accessible role models are vitally important too – and remember, these can come in all shapes, sizes and (importantly) genders.
What else?
Let's continue the ripple effect and help empower other women to take on the challenge of leadership which, let's be honest, can be more of a strain if you feel you don't belong and are constantly pushed out of your comfort zone.
As Nirmal Puwar of Goldsmiths, University of London, highlighted in a piercing keynote, there is much remedial work to be done to thwart infantilism along with the imposter syndrome, so we can feel more comfortable in our own skin.
What else needs adding to this manifesto? Add your voice to the discussion on Twitter via @MuseumAgender or the hashtag #MuseumAgender.
Yasmin Khan is a cultural consultant and co-chair of Women Cultural Leaders East, one of the regional networks to emerge from the CCC programme.
She was also on on the planning committee for the Space Invaders event, which wascurated by Sara Wajid
Join our community of arts, culture and creative professionals by signing up free to the Guardian Culture Pros Network.
[SOURCE :-theguardian]