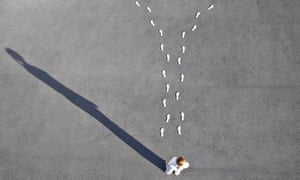 Twice a week we publish problems that will feature in a forthcoming Dear Jeremyadvice column in the Saturday Guardian so that readers can offer their own advice and suggestions. We then print the best of your comments alongside Jeremy's own insights. Here is the latest dilemma – what are your thoughts?
Since hitting middle age I've wanted to change career but don't know where to start. I have spoken to a careers adviser, who told me that they wouldn't really help identify the best career or job path, but they would work with me once I'd chosen the job or role I want. Unfortunately, that's the bit I'm struggling with.
The adviser said that "there are lots of resources on the internet that will help you identify a job or career type", but I haven't been able to find anything suitable for someone in my position ie, mid-career rather than for school leavers or graduates starting out.
I did a City & Guilds qualification in electronics in my teens, and have always done skilled work repairing electronic items, which is often field-based, so I've never worked with colleagues every day in an office or factory environment.
What are the best resources for a mid-life career changer like me, and how do I draw up a plan/strategy to move myself forward?
Do you need advice on a work issue? For Jeremy's and readers' help, send a brief email to [email protected]. Please note that he is unable to answer questions of a legal nature or to reply personally.
[source :-theguardian]