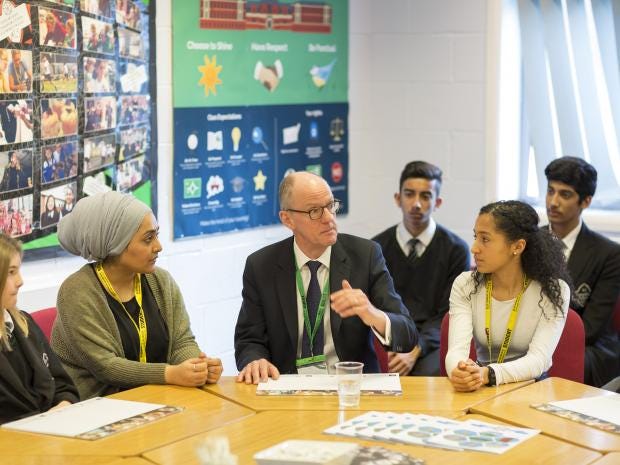 Schools Minister Nick Gibb has been jeered and heckled by teachers as he sought to defend the Government's controversial plan to force all schools to become academies.
There were shouts of "total c**p" and "b*****ks" as he addressed delegates at the Association of Teachers and Lecturers' annual conference in Liverpool on the subject..
At one stage Gerard Kelly, former editor of the Times Educational Supplement – who was interviewing Mr Gibb for the conference – had to intervene and ask the teachers to be "polite".
Mr Gibb sought to defend the plans – under which every school will become an academy by 2022 – by saying it was an attempt to introduce a "professionally led system" of education where schools were run by multi-academy trusts.  His comments sparked cries of "shame" and "b*****ks".
When Mr Kelly asked Mr Gibb if he accepted there was no evidence that academies performed better than local authority schools, there was wild applause from delegates. Mr Gibb said: "Headteachers who run academies would beg to differ."  This was greeted by a shout of "oh,no, they wouldn't."
Mr Gibb then argued that the Government had to move towards academisation because a number of local authorities now had so few schools under their oversight that it was impossible for them to have the  resources to look  after them.
Mr Kelly drew applause when he said he did not understand "why a good local authority school that's doing well should have to become an academy".  Mr Gibb countered by saying that there was nothing to stop a local authority becoming a multi-academy trust which prompted a cry of "total c***p" from one delegate.
Later, when the duo went on to discuss teachers' workload in the wake of an ATL survey yesterday showing eight out of 10 teachers were contemplating leaving the profession Mr Gibb provoked laughter and cries of "really?" when he said:  "We're taking the workload issue really seriously."
He went on:  "We asked people what are the drivers of workload".  This was followed by cries of "the Tory  government" to which Mr Gibb replied it had happened under the Coalition.
At the end of the session, though, Mr Gibb won sympathetic applause after he had said:  "I'm absolutely aware of the huge change that the five years of reform that are now really coming into force have presented to you." he accepted the primary school curriculum was"significantly  harder and more demanding than in the past".  Mr Kelly won applause when he suggested it was "daft and vindicate" to change the tests for 11-year-olds so that a  talented pupil who passed with flying colours last year only scored 22 out of 50 when she took this year's test, adding it meant "a talented child had become a failure".
Afterwards, Lucy Powell, Labour's Shadow Secretary of State, who was addressing  the conference, pledge to join forces with teachers' leaders and Conservative backbenchers who were fighting te academies' plan. At the weekend, Graham Brady, Conservative MP and chairman of the powerful 1922 committee of backbench MPs came out against the plan, saying it would transfer schools to unaccountable "bureaucracies".
[source :-independent]