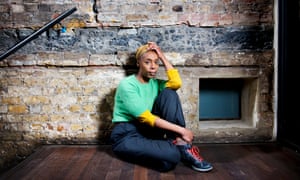 British theatre has a long way to go to tackle inequality, according to the director of a new production that represents a watershed moment in black cultural history.
Daniel Evans is directing Show Boat, the epic musical by Oscar Hammerstein and Jerome Kern which, when it premiered in 1927, was the first time black and white characters had been on stage together as equals.
The production opened to five-star reviews at the Crucible in Sheffield last Christmas and officially opens in the West End on 25 April.
It comes as intense scrutiny of diversity in the arts, from the British stage to Hollywood, continues to fuel headlines.
At the Olivier awards two weeks ago Denise Gough, picking up the best actress award, asked why all those shortlisted for her prize were white when there had been amazing performances by Marianne Jean-Baptiste, Sharon D Clarke andNoma Dumezweni, who had only stepped into the title role in Linda at the Royal Court two weeks before opening night, after the withdrawal of Kim Cattrall.
Gough deserves huge respect, Evans said. "There was a moment towards the end of the Oliviers where all the winners had been white," he said. "Then David Bedella and Matt Henry went up … there was a collective sigh of relief."
Evans said theatre still had a long way to go in terms of diversity. "It is very, very hard to become conscious of one's unconscious personal bias, for the very reason that it is unconscious. It's not just race, it's the same with gender, disability. We are drawn to what we know.
"Theatre does not do as well as it thinks it does. I'm not pointing the finger, we all have to own up to the fact that, whether we like it or not, we all have a personal bias, whichever way it goes.
"We often think of ourselves in theatre as more liberal, of being ahead of the game. I wish that were really true… we have a long way to go."
The issue is an urgent one in the arts. At the end of 2014 Arts Council England announced a fundamental shift in its approach, with arts organisations told they might lose funding unless they showed better progress in making audiences, programmes and their workforce more diverse.
A recent culture white paper published by arts minister Ed Vaizey said arts organisations had to "ensure that everyone, no matter what their background, can access and enjoy our incredible arts and culture".
But the challenges are large. An important report last year by the Warwick Commission on culture, creativity and growth contained some alarming statistics suggesting that the diversity of Britain's creative workforce was contracting.
Black, Asian and minority ethnic workers represent 6.7% of the music, performing and visual arts workforce compared to 14.1% of the overall population in England and Wales and 40% in London. In design it is 6% and in film TV and radio it is 9.1%.
Evans is about to open a show which has not been without controversy over the decades. When it was staged in Toronto in 1993 there were protests, with complaints of Show Boat being a "racist play" demeaning to black life and culture.
Evans profoundly disagrees, seeing it as a daring piece of political theatre.
Telling the story of performers and workers on a Mississippi River show boat, it explores racial prejudice like no musical before it had. It also contains classic songs such as Ol' Man River.
"There is this amazing score by Hammerstein and Kern and then a serious subject matter," said Evans. "In 1927 it must have been revolutionary to have this form of entertainment, considered frivolous and superficial at the time, tackling serious issues about race.
"You can still feel that energy in the piece of two people breaking the mould… it still has an intense power.
"We've done this production in dialogue with the cast careful, I hope, not to show the work in a beautiful or romantic light. Having said that Ol' Man River is a song that has at its core a yen for freedom … you have to convey that. Whether you think it is romantic or not, I don't care. To me it is political and personal."
One key decision was over whether or how much to use the N-word which does figure in the original production.
After discussions within the company it was decided it should be in the mouths of white bigots, but otherwise not used. "It was a huge debate, lots of opinions and lots of emotions," said Evans. "These are primal things."
Evans, who soon leaves Sheffield to take up the reins at Chichester FestivalTheatre, hopes Show Boat will encourage people to think of society as it is today. "Hammerstein and Kern's great achievement is to give people a great night and make them think about the world they are living in."
[SOURCE :-theguardian]