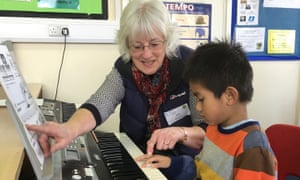 Nearly five million people in the UK are now self-employed, many in precarious, often low-paid roles, and always anxious about where the next pay cheque is coming from. But a new report reveals that a growing number of freelancers are forming co-operatives to share costs and services.
They range from music teachers in Swindon, to a group of interpreters, to taxi driver firms owned by self-employed drivers.
In 1998 the future for specialist music teachers in Swindon looked grim after the local authority closed down its instrumental teaching service. Rather than scrap for work independently – spending as much time seeking work and chasing payment as doing the job – 20 formed a co-op to market their services and share the burdens of administration.
Swindon Music Co-operative now has 50 teachers, serving around 1,400 students, says director Janet Hodgson.
"We collectively work to share ideas, enabling teachers to meet each other, support each other with resources and carry out training sessions. We also set tuition rates each year for parents and pay rates for teachers."
So is it akin to a union? The crucial difference is that everyone remains self-employed, with two office staff handling administration, "leaving teachers to do what they are supposed to do, rather than chasing money".
Its success has inspired others around the country caught up in local authority cutbacks. Milton Keynes council made nearly 100 instrumental teachers redundant in October 2013 but, with the help of the Musicians' Union (MU), around 60 set up the Milton Keynes Music Co-operative. Other music co-ops have formed in Newcastle, Grimsby and the Isle of Wight, with the MU unusual among trade unions in taking a very active role promoting co-op formation.
Most use the "consortia" model, whereby a co-operative provides a range of "paid for" services to its teacher-members who are all self-employed. They, in turn, own and control the company, though they tend to have an essentially flat management structure, with no heads of department and teacher-members free to develop and grow the co-operative how they choose.
Anca Ionescu is part of Ricol Language Services, set up in 2012 when a group of interpreters were made redundant from business services firm Capita. They provide translation services for businesses and law centres as a way to promote their work and share costs.
Ionescu was angry at the "ridiculously low rates" paid by private firms when interpreting work was outsourced by the courts. "We no longer suffer from these companies constantly trying to drive the price down," she says. "We started doing our own marketing and finding more ethical clients." She admits it has been a challenge – the co-op has only four full members, but has helped nearly 100 others find work.
Paper Rhino was set up in 2011 by graphic designers who left a gardening magazine to become freelancers but were worried about the problems of being entirely self-employed. Founder Jay Gearing says: "Our main concerns were sick and holiday pay, doing all the admin yourself and, for some of us, the loneliness of working from home by yourself. The latter can really impact your entire life and, as designers, there's not much scope for getting out. Having no one to interact with can really affect your general well-being."
Today it has six designers, illustrators and videographers, all employed by the co-op, offering "affordable" design services with charities its main clients.
But while there are numerous stories of co-operative success around the country, services remain in their infancy compared to other countries. At 15% of the workforce, government statistics show that 4.6m people are now self-employed – the highest number in the UK since records began. But their average income fell by 22% in the five years up to 2014, indicating a growth in lower-paid self-employed workers.
Other countries are further down the road in organising self-help groups. In the US, the Freelancers Union provides its 280,000 members with advice and insurance. In Belgium, SMart is a co-op offering invoicing and payments for 60,000 freelancer members. In France, new legislation allows self-employed workers to access the sickness pay and benefits of conventional employees through co-operatives.
Pat Conaty, co-author of the report Not Alone, which sets out trade union and co-operative solutions for self-employed workers, is a freelancer himself. He says: "Self-employment is at a record level, but it is not yet at the high water mark. The pressure and the promise that lead people to go freelance will continue to swell the ranks of the self-employed over the coming year.
"Working alone can be aspirational, but it can also be lonely and anxious. There is an extraordinary opportunity for new co-operative solutions for self-employed people, giving the freedom of freelancing with the muscle of mutuality."
[SOURCE :-theguardian]